Ackman May be Looking For J.C. Penney Exit and 2 Other Heavily Traded Stocks
J.C. Penney & Co. (NYSE:JCP): Current price $14.10
Reuters is reporting that William Ackman's multiyear gamble that he could remake the struggling icon retailer J.C. Penney, might wind up being one of his $12 billion hedge fund's worst investment fiascos. On Monday, Penney's board dismissed Ron Johnson, who had been an Apple executive chosen by Ackman to restore the retailer, and brought back Mike Ullman, whom Ackman has previously criticized. Now the hedge fund manager is probably looking for his own quick exit from an investment that is costing his Pershing Square Capital Management millions in losses and has damaged his reputation, according to industry analysts and investors.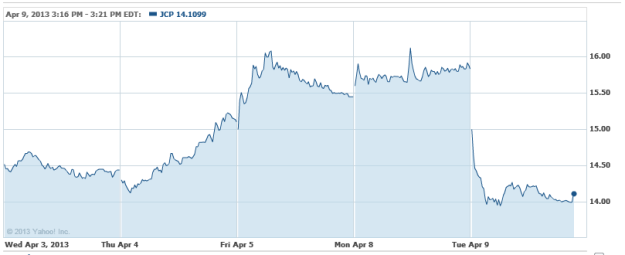 Bank of America Corporation (NYSE:BAC): Current price $12.29
Only weeks after being promoted, Ashish Malhotra, Bank of America Merrill Lynch's chief of debt capital markets for Asia has exited the firm, according to The Wall Street Journal. Malhotra came to Merrill Lynch in 2004 from Deutsche Bank (NYSE:DB). Before assuming the role of Asia DCM head at the United States bank in March, he was head of debt syndicate for Asia Pacific; Malhotra's exit comes amid other personnel moves at the Wall Street bank in Hong Kong of late. In March, BofA Merrill Lynch recruited a number of Deutsche Bank bankers in the city for its equities team, including Ajay Kapur, who will take on the position of chief of Asia equity strategy. In late February it appointed Richard Yacenda, also from Deutsche Bank, as chief operating officer for Asia Pacific.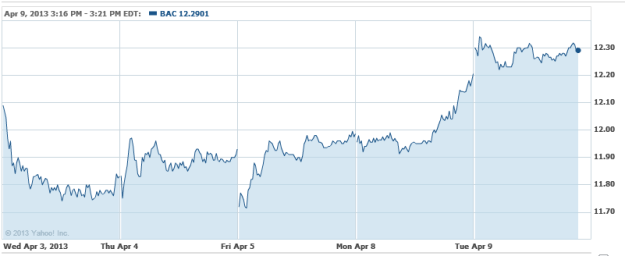 Microsoft Corporation (NASDAQ:MSFT): Current price $29.69
Once again, Microsoft is bashing Google (NASDAQ:GOOG) with vicious ads, according to the Associated Press. The ads have popped up online, on television and in print, and depict Google as a duplicitous firm that is more interested in growing profits and power than protecting user's privacy and providing unbiased search results. This time, Microsoft is vilifying Google for sharing some of the personal information that it garners in regards to persons who buy applications designed to run on smartphones and tablet computers powered by Google's Android software.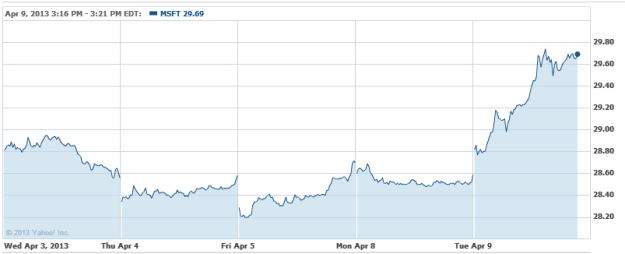 Don't Miss: Are the Markets Staring at a Massive Plunge?