Ackman to Pursue Herbalife Fight 'To the End of the Earth'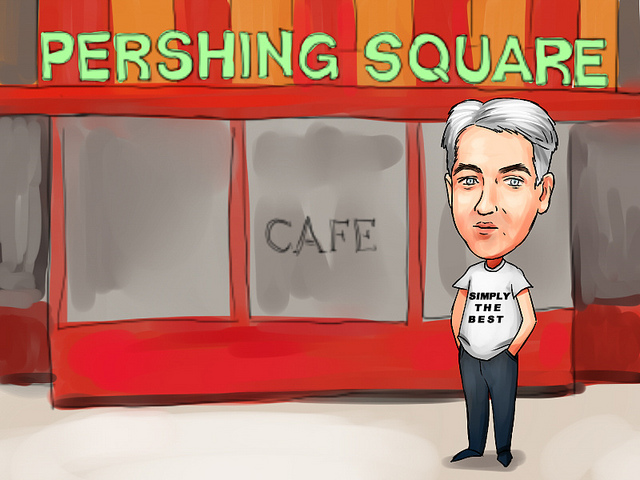 Pershing Square Capital Management's Bill Ackman took the stage at an investor conference in New York on Friday morning to renew his battle against Herbalife (NYSE:HLF), but according to early reports from the gathering, his presentation didn't do much to convince investors that Herbalife is a pyramid scheme. Herbalife shares are up 5.6 percent in morning trading on Friday.
Herbalife says it sells health and weight-loss products, but Ackman has accused the company of being a pyramid scheme, making money through recruiting members and collecting fees rather than actually selling any goods. According to a report from Reuters, Ackman first accused Herbalife of being a pyramid scheme in December 2012 and made a $1 billion short bet against the company at that time. Since then, the move has cost Pershing Square hundreds of million of dollars.
Meanwhile, Herbalife has repeatedly insisted that it's not a pyramid scheme, and Ackman's belief that Herbalife's share price will fall to zero when regulators step in has not yet come true. Seeking Alpha says that Ackman didn't bring up many new points or evidence to back up his claims, and so his presentation didn't impress investors.
While the Robin Hood Investors Conference is closed to the media, Ackman stopped to talk to Bloomberg after his presentation. Ackman acknowledged that shorting Herbalife has cost Pershing Square between $450 million and $500 million, but he's still confident in his position. Ackman told the news service that he will take his Herbalife short "to the end of the earth," explaining how difficult it would be for Herbalife to obtain a leveraged buyout offer.
When asked about the stock's 112 percent rise since the beginning of the year, Ackman said that his firm's attention on Herbalife has contributed to its gains. The investor also noted that the attention he's brought to Herbalife has gotten some regulators, including the Federal Trade Commission, involved, although nothing has come of that investigation as of yet.
Ackman's arch-rival, Carl Icahn, has invested in Herbalife and fought Ackman's claims tooth and nail. As the stock ascends, it appears Ichan is winning — for now.
Follow Jacqueline on Twitter @Jacqui_WSCS
Don't Miss: Sears Shares Plunge Just Like Its Q3 Earnings.