Ackman Wants Board Change at J.C. Penney and 2 Other Hot Stocks to Watch
J.C. Penney & Co. (NYSE:JCP): Current price $12.74
On Friday, one day after the hedge fund manager sent word to J.C. Penney that he wants a new CEO to replace Mike Ullman, Bill Ackman let the retailer's board know that he would be pleased if Chairman Thomas Engibous were replaced by the former Chief Executive Allen Questrom. Addressing his fellow directors, Ackman sent a letter to the board saying that he has "lost confidence" in Engibous and recommends a boardroom shakeup that would oust Engibous, eject interim Chief Executive Mike Ullman, and install former Questrom to the chairman's seat. His complaints seem to arise from a power struggle with Ullman, who was brought in to relieve Ron Johnson earlier this year and has since committed errors in Ackman's view.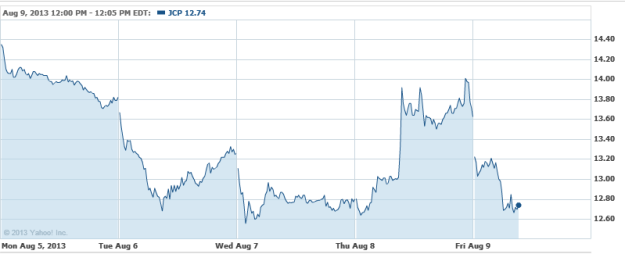 Nvidia Corp. (NASDAQ:NVDA): Current price $14.59
The graphic chipmaker Nvidia Corp. has forecasted current-quarter revenue below consensus as it continues to deal with high competition in a slumping PC market. Nvidia derives the balance of its revenue from PCs and was a late entrant in the market for smartphone chips. However, the firm has been investing on its Tegra mobile processor business, banking on its graphics expertise to manufacture high-performance processors for mobile devices. Nvidia said that it expects third-quarter revenue of $1.05 billion, plus or minus two percent, against consensus of $1.09 billion, said Thomson Reuters I/B/E/S.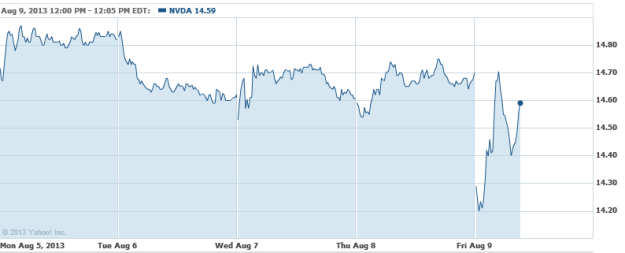 Frank's International NV (NYSE:FI): Current price $26.03
Shares of Frank's International are up more that 18 percent in late-morning trading on the company's market debut day, having been up as much as 27 percent at times. Shortly after the opening, the stock was trading at $26.84, valuing the company at about $4 billion. Frank's raised $660 million on Thursday after pricing its offering of 30 million shares at $22 apiece, which was above the expected range of between $19 and $21. The company supplies drilling equipment and services to Chevron Corp, Exxon Mobil Corp, and ConocoPhillips, among others.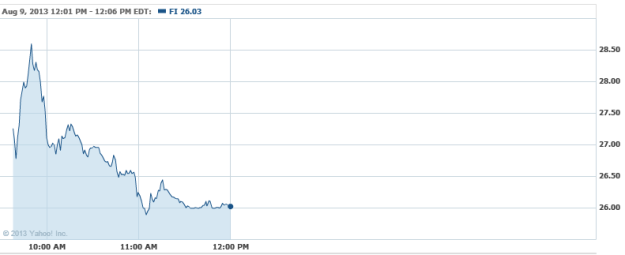 Don't Miss: Michael Dell's Opposition Just Shrank by a Few Million Shares.