Activision Blizzard Earnings: Margins Expand
Activision Blizzard, Inc (NASDAQ:ATVI) reported net income above Wall Street's expectations for the first quarter. Activision Blizzard, Inc. (Activision Blizzard) is an online, personal computer (NYSE:PC), console and handheld game publisher. It has three segments:Activision Publishing, Blizzard Entertainment, Inc. and its subsidiaries & Activision Blizzard Distribution.
Don't Miss: Wall St. Cheat Sheet's newest Feature Trades of the Month!
Activision Blizzard, Inc Earnings Cheat Sheet for the First Quarter
Results: Net income for Activision Blizzard, Inc rose to $503 million (42 cents/share) vs. $381 million (30 cents/share) in the same quarter a year earlier. A rise of 32% from the year earlier quarter.
Revenue: Rose 10.8% to $1.45 billion YoY.
Actual vs. Wall St. Expectations: ATVI reported adjusted net income of of 13 cents/share. By that measure, the company beat the mean estimate of 8 cents/share. Estimates ranged from 7 cents per share to 10 cents per share.
Quoting Management: Robert Kotick, CEO of Activision Blizzard, stated, "With over $1.4 billion of GAAP net revenues and $0.42 of GAAP EPS our record first-quarter performance was driven by digital sales and the continued strength of Activision Publishing's Call of Duty and Blizzard Entertainment's World of Warcraft franchises. Digital content continues to represent a significant portion of our revenues and increased by about $100 million year over year, enabling us to deliver record first-quarter operating margins and earnings per share. The Call of Duty: Black Ops First Strike content pack shattered Xbox LIVE launch records, surpassing 1.4 million downloads in the first 24 hours alone,(NYSE:ONE) and Blizzard's Battle.net service continues to grow its service offerings. To date, Call of Duty: Black Ops players have logged more than 1.2 billion online hours of online gameplay.(AMEX:TWO)"
Key Stats:
From the fourth quarter of the last fiscal year, the company's current liabilities fell to $1.89 billion from $2.91 billion.
Gross margins grew 9.6 percentage points to 68.8%. The growth appeared to be driven by falling costs, as the figure fell 15.2% from the year earlier while revenue rose 10.8%.
Over the last five quarters, revenue has increased 7% on average year over year. The biggest increase came in the first quarter of the last fiscal year, when revenue rose 33.3% from the year earlier quarter.
Competitors to Watch: Electronic Arts Inc. (NASDAQ:ERTS), Microsoft Corporation (NASDAQ:MSFT), Take-Two Interactive Software, Inc. (NASDAQ:TTWO), THQ Inc. (NASDAQ:THQI), Nintendo Co., Ltd (NTDOY), Majesco Entertainment Co. (NASDAQ:COOL), KONAMI CORPORATION (NYSE:KNM), Sony Corporation (NYSE:SNE), Silverstar Holdings Ltd. (SSTRF), and Gravity Co., LTD. (NASDAQ:GRVY)
Stock Performance: Shares of ATVI are up 0.78% from the previous close.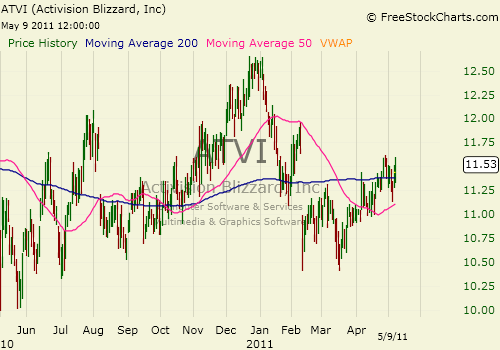 Don't Miss Wall St. Cheat Sheet's newest Feature Trades of the Month!