Activision Halts Vivendi Talks and 2 More Heavily Traded Stocks to Follow
Activision Blizzard (NASDAQ:ATVI): Current price $14.90
Knowledgeable sources say that the video game publisher has halted talks on repurchasing shares held by its parent company Vivendi, amid a dispute over price adding that Activision was considering the purchase at least some of Vivendi's stake as recently as April. Vivendi holds a 61 percent Activision shareholding valued at over $10 billion as of Tuesday's close, and would have gradually divested its outstanding shares on the open market if a stake remained.

Micron Technology (NASDAQ:MU): Current price $10.87
It was announced Wednesday that Vice President Tom Eby of the Embedded Solutions Group will discuss "Memory for the Interconnected World" in a presentation on May 30 at SMART TECHnology World 2013. Eby will cover the role memory serves in the current global network, and describe strategies to assist customers to best utilize their memory options.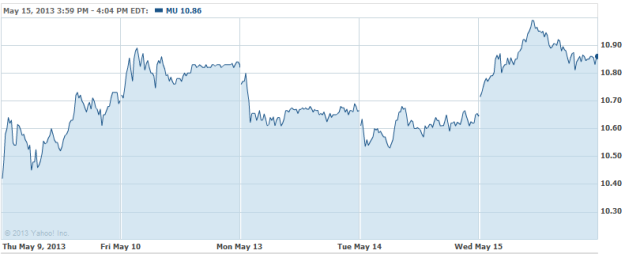 MannKind Corporation (NASDAQ:MNKD): Current price $5.13
According to Zacks Equity Research, the loss of 15 cents per share in the first quarter was lower than the Zacks Consensus Estimate of a loss of 16 cents, and the year-over-year loss of 27 cents. Also, MannKind did not generate any revenue in the first quarter, which is the same as in the year-ago quarter. Research and development expenses swelled by 9.3 percent to $26.4 million in the reported quarter. The increase in expenses was primarily due to higher costs for clinical trial-related activities during the quarter.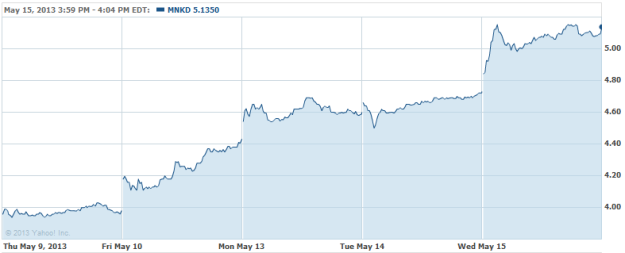 Don't Miss: 7 Big Brands Bangladesh Needs Answers From.