Actuant Corp Earnings Cheat Sheet: Profit Up
Actuant Corporation (NYSE:ATU) reported net income above Wall Street's expectations for the third quarter. Actuant Corporation is a global manufacturer and marketer of a range of industrial products and systems. The Company is organized into four operating and reportable segments as follows: Industrial, Energy, Electrical and Engineered Solutions.
Don't Miss: Wall St. Cheat Sheet's newest Feature Trades of the Month!
Actuant Earnings Cheat Sheet for the Third Quarter
Results: Net income for Actuant Corporation rose to $36.4 million (49 cents/share) vs. $21.8 million (30 cents/share) in the same quarter a year earlier. A rise of 66.5% from the year earlier quarter.
Revenue: Rose 26% to $392.8 million YoY.
Actual vs. Wall St. Expectations: ATU beat the mean analyst estimate of 46 cents/share. Estimates ranged from 43 cents per share to 47 cents per share. It beat the average revenue estimate of $379.1 million.
Quoting Management: Robert C. Arzbaecher, Chairman and CEO of Actuant commented, "Actuant is executing well and delivering terrific results, including another quarter of double digit organic sales growth, margin expansion, higher than expected EPS and healthy cash flow. We reported year-over-year core sales growth in all four segments, with sequential increases in three of the four segments and in excess of 20% year-over-year core growth in both Industrial and Energy. Incremental profits on the higher sales led to year-over-year operating margin expansion of 140 basis points and EPS above the top of our guidance range. We generated robust free cash flow and consistent with our business model, deployed it in growth investments, including the acquisition of Weasler just after quarter-end. It was a strong performance quarter by all measures and we expect that momentum to continue into our fourth quarter and next fiscal year."
Competitors to Watch: Parker-Hannifin Corp. (NYSE:PH), Crane Co. (NYSE:CR), Omega Flex, Inc. (NASDAQ:OFLX), Sun Hydraulics Corporation (NASDAQ:SNHY), General Electric (NYSE:GE) and Danaher Corporation (NYSE:DHR).
Stock Performance: Shares of ATU are up over 7% to $24.49 per share.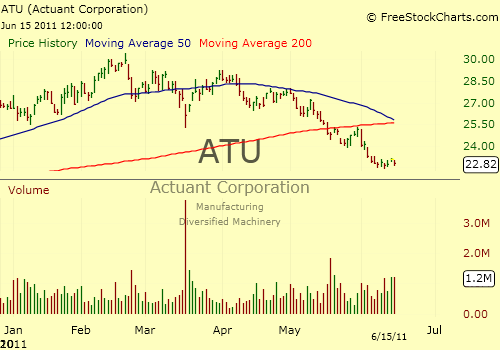 Don't Miss Wall St. Cheat Sheet's newest Feature Trades of the Month!
(Source: Xignite Financials)