Acura's Most Powerful Car Yet Manages Without a V8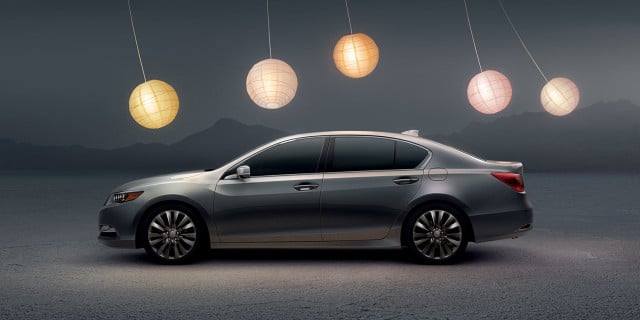 Acura's (NYSE:HMC) reluctance to shovel a V8 into its high-end sedans has arguably done some damage to its brand integrity, as it makes Honda's luxury marque possibly the only high-end brand without a V8 offering in its leather-clad, upscale range of products.
Infiniti (NSANY.PK) and Lexus (NYSE:TM) — Acura's two primary competitors from Japan — both offer some potent V8 options for their large sedans and SUVs. Of course, you have the German competition, as well, which have long had V8 power available for almost every product that rolls off their assembly lines.
Instead, Acura has been fighting for a leadership role as one of the most fuel-efficient luxury brands on the market. Unfortunately, this has come to the detriment of performance and as a dent in the brand's reputation. More crucially, it has pushed away a demographic of younger customers who are looking for a comfortable car with the horsepower that matches the interior fit and finish.
However, Acura has been making strides to boost the performance and handling of its vehicles, notable the new RLX full-size sedan. No, it's not a V8 — but it is a tech-loaded hybrid setup that features three electric motors and brings the RLX's total horsepower from a somewhat anemic 310 to a more competitive 377.
That still falls short of the Infiniti M56′s 420 horsepower — which is supplied via a 5.6-liter V8 — and just a hair shy of the 386 horses from the Lexus LS's 4.6-liter V8. But Acura's hybrid system — as you'd expect — does a lot more than bump up the horsepower.
Coupled to the standard 3.5-liter V6, the three electric motors also work in conjunction with Honda's seven-speed dual-clutch transmission, itself mated to one of the electric motors (the other two are connected to the rear wheels). "During cornering, the motors also power a torque-vectoring system that sends positive torque to the outside rear wheel and braking torque to the inside rear wheel," Automotive News reports. "In theory, this creates an 'optimal yaw moment,' or more precise turn-in."
According to the company, the system makes the RLX Sport Hybrid "the most powerful Acura ever built."
Additionally, the system allows an all-electric cruise mode of up to 50 miles per hour. This means the V6 is off and the transmission is disengaged. However, at cruising speed, the engine kicks back in — but with some help from cylinder deactivation, the car maintains optimal fuel economy.
The Sport Hybrid is therefore good for 28 miles per gallon in the city and 32 miles per gallon on the highway, or 30 combined — not too shabby for a full-size luxury sedan, but about on par with other hybrids in its class. What it will really come down to is Acura's new torque vectoring system and its impact on the RLX's performance.
The new system isn't one that Acura just threw together to sell more luxury cars, though. It's a very similar version to the same hybrid powertrain that's being shoe-horned into the upcoming NSX sports car, which has been in development for some time and has a lot riding on its reputation.
Due for launch in 2014, the price of the Sport Hybrid has not yet been released. Automotive News says to expect it to compete most with the Lexus GS 450h, Mercedes-Benz E400h, and BMW ActiveHybrid5; "the typical customer is a 48-year-old man in a household that earns more than $200,000," according to the publication.
Don't Miss: 9 Automobiles Surging Past the Competition on U.S. Soil.