Acxiom Corporation Earnings: Margins Shrink
Acxiom Corporation (NASDAQ:ACXM) reported its results for the fourth quarter. Acxiom Corporation provides marketing technology and services that enable marketers to successfully manage audiences, personalize consumer experiences and create profitable customer relationships.
Don't Miss: Wall St. Cheat Sheet's newest Feature Trades of the Month!
Acxiom Earnings Cheat Sheet for the Fourth Quarter
Results: Swung to a loss of $67.1 million (88 cents/diluted share) in the quarter. The Acxiom Corporation had a net income of $16.6 million or 20 cents per share in the year earlier quarter.
Revenue: Rose 3.6% to $298.8 million YoY.
Actual vs. Wall St. Expectations: ACXM reported adjusted net income of of 21 cents/share. By that measure, the company beat the mean estimate of 19 cents/share. Estimates ranged from 18 cents per share to 20 cents per share.
Quoting Management: Jerry Gramaglia, Acxiom's interim chief executive officer, said, "Our results for the fourth quarter and for the entire fiscal 2011 year were in line with our expectations expressed in our March 30th announcement. In the fourth quarter and continuing into fiscal year 2012, Acxiom's focus is on delivering exceptional value to the world's top marketers. In turn, we continue to be rewarded with long term renewals and significantly expanded business relationships."
Key Stats:
Gross margin shrunk 1.3 percentage points to 25.2%. The contraction appeared to be driven by rising costs as the figure rose 5.5% from the year earlier quarter while revenue rose 3.6%.
ACXM's loss in the latest quarter follows profits in the previous three quarters. The company reported a profit of $20.8 million in the third quarter, a profit of $13.3 million in the second quarter and $9.8 million in the first.
Over the last five quarters, revenue has increased 4% on average year over year. The biggest increase came in the second quarter, when revenue rose 7.6% from the year earlier quarter.
Competitors to Watch: TeleTech Holdings, Inc. (NASDAQ:TTEC), CSG Systems Intl., Inc. (NASDAQ:CSGS), Teradata Corporation (NYSE:TDC), Convergys Corporation (NYSE:CVG), EMC Corporation (NYSE:EMC), Intl. Business Machines Corp. (NYSE:IBM), RightNow Technologies (NASDAQ:RNOW), Computer Sciences Corp. (NYSE:CSC), Syntel, Inc. (NASDAQ:SYNT), and Edgewater Technology Inc. (NASDAQ:EDGW)
Stock Performance: Shares of ACXM are unchanged from the previous close of $14.47.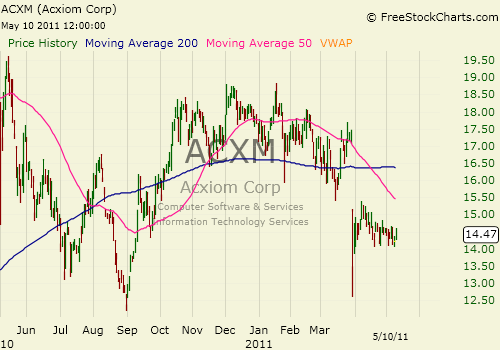 Don't Miss Wall St. Cheat Sheet's newest Feature Trades of the Month!