Adobe Systems Inc Earnings Cheat Sheet: Margins Expand and Profit Climbs
S&P 500 (NYSE:SPY) component Adobe Systems Incorporated (NASDAQ:ADBE) reported net income above Wall Street's expectations for the second quarter. Adobe Systems Inc. offers a line of creative, business, Web and mobile software and services used by creative professionals, knowledge workers, consumers, original equipment manufacturers, developers and enterprises.
Don't Miss: Wall St. Cheat Sheet's newest Feature Trades of the Month!
Adobe Systems Incorporated Earnings Cheat Sheet for the Second Quarter
Results: Net income for the application software company rose to $229.4 million (45 cents/share) vs. $148.6 million (28 cents/share) in the same quarter a year earlier. A rise of 54.4% from the year earlier quarter.
Revenue: Rose 8.5% to $1.02 billion YoY.
Actual vs. Wall St. Expectations: ADBE reported adjusted net income of 55 cents/share. By that measure, the company beat the mean estimate of 51 cents/share. Estimates ranged from 49 cents per share to 53 cents per share. It beat the average revenue estimate of $994.8 million.
Quoting Management: "Our strong Q2 performance demonstrates our strategy of enabling users to make, manage and measure great digital experiences is resonating with our customers," said Shantanu Narayen, president and CEO of Adobe.
Key Stats:
From the first quarter, the company's current liabilities fell to $1.1 million from $985.5 million.
Revenue has risen the past four quarters. Revenue increased 19.7% to $1.03 billion in the first quarter. The figure rose 33.1% in the fourth quarter of the last fiscal year from the year earlier and climbed 42% in the third quarter of the last fiscal year from the year-ago quarter.
The company topped expectations last quarter after falling short of forecasts in the first quarter with net income of 44 cents versus a mean estimate of net income of 48 cents per share.
Gross margins grew 0.8 percentage point to 89.3%. The growth seemed to be driven by increased revenue, as the figure rose 8.5% from the year earlier quarter while costs rose 1.3%.
Competitors to Watch: Microsoft Corporation (NASDAQ:MSFT), Google Inc. (NASDAQ:GOOG), Apple Inc. (NASDAQ:AAPL), Oracle Corporation (NASDAQ:ORCL), Autodesk, Inc. (NASDAQ:ADSK), Sonic Solutions (NASDAQ:SNIC), Monotype Imaging Hldgs. Inc. (NASDAQ:TYPE), Bitstream Inc. (NASDAQ:BITS), Intl. Business Machines Corp. (NYSE:IBM), and Sonic Foundry, Inc. (NASDAQ:SOFO).

Stock Performance: Shares of ADBE are down over 2% after hours…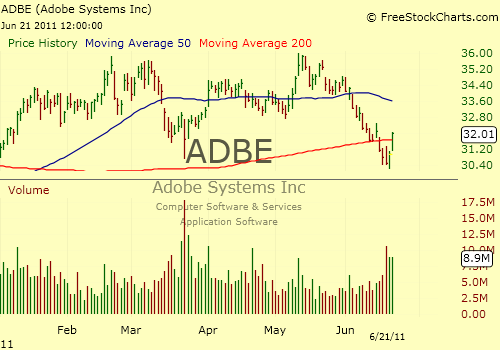 Don't Miss Wall St. Cheat Sheet's newest Feature Trades of the Month!
(Source: Xignite Financials)