ADP: Federal Budget Cuts Are Finally Hurting Job Growth
Even though the job market has remained surprisingly resilient after the $85 billion in across-the-board federal spending cuts that took effect March 1, businesses added a disappointing 135,000 jobs in May, reported private payroll processor ADP on Wednesday. Economists had expected the economy to add 167,000 jobs in the past month, and the fact that this target was missed indicates that the big federal budget cuts may be finally taking a toll on the labor market.
Jobless claims figures are considered a good measure of layoffs and provide the first look at the employment situation for any given month. Since reaching an all-time high of 670,000 in March of 2009, initial claims for unemployment benefits dropped to a five-year low for the week ended May 3, seeming to indicate that layoffs were back to pre-recession levels and that employers were confident enough in current economic conditions to hold onto workers. But, following the typical recovery pattern, jobless claims jumped up once again for the week ended May 10, providing another warning sign for the labor market. And, each of the Department of Labor's following two jobless claims reports showed spikes in the number of Americans requesting unemployment benefits for the first time.
"The softer job market this spring is largely due to significant fiscal drag from tax increases and government spending cuts," explained Mark Zandi, chief economist of Moody's Analytics, which helps produce ADP's report.
Although the small gain was disappointing, the numbers reported by ADP did mark an increase from the 113,000 private sector jobs the payroll processor said were created in April.
The majority of new jobs were created by small businesses, which added 58,000 workers last month, while medium-sized and large businesses each showed gains of 39,000. Professional and business services led the job gains by sector, with 42,000 new positions. Trade, transportation, and utilities added 31,000, financial companies created 7,000 new jobs, and construction added 5,000 — evidence of the slowly strengthening housing market. Comparatively, the manufacturing sector cut 6,000 jobs, yet another sign of weakness for U.S. factories.
Economic news has been concerning this week. The government reported that U.S. manufacturing activity shrank in May and construction spending growth was weak in April. Furthermore, April consumer income and spending were flat.
This report will likely spark concern ahead of the Labor Department's more closely-watched employment report, which economists expect to show an increase of 165,000 jobs when it is released on Friday. ADP has had mixed success forecasting the Labor Department's numbers. Since the firm first began partnering with Moody's Analytics seven months ago, its estimates have differed from the government's tally by an average of 42,000.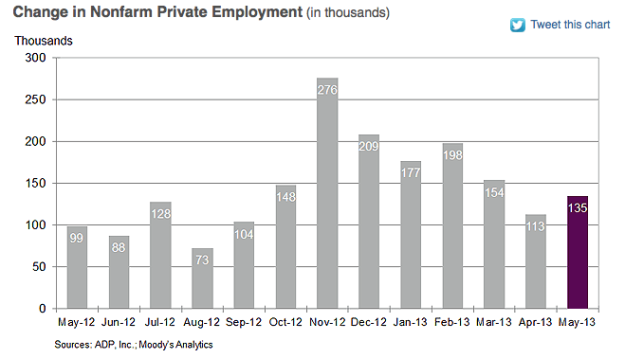 Follow Meghan on Twitter @MFoley_WSCS
Don't Miss: How Taper Talk Has Cooled the Stock Market.