ADP: Labor Market Undeterred By Government Shutdown
November was not only the strongest month for job growth in 2013, but payroll processor ADP's monthly National Employment report also showed that employers added workers to their payrolls at the most robust pace in a year. Surpassing economists expectations for an increase of 178,000 jobs, private-sector employment in the United States grew by 215,000 jobs in November and October's gain was upwardly revised to 184,000 from the 130,000 reported a month ago. To Carlos Rodriguez, president and chief executive officer of ADP, that data was an "encouraging sign as we head toward the new year."
Small companies — employing between 1 and 19 workers — led November's job gains, adding 102,000 positions to their payrolls last month. Comparatively, medium businesses, with 50 to 499 employees, added 48,000 jobs and large corporations, and businesses with more than 500 workers added 65,000.
Notably, companies employing between 500 and 999 workers laid off around 5,000 people. In terms of sector job additions, unsurprising, the service-providing industries added the most jobs with 176,000, while the goods-producing industries added only 40,000. More specifically, employment in construction rose by 18,000 jobs; factories added 18,000 jobs, the biggest gain since February 2012; and, trade, transportation, and utilities created 45,000 jobs last month.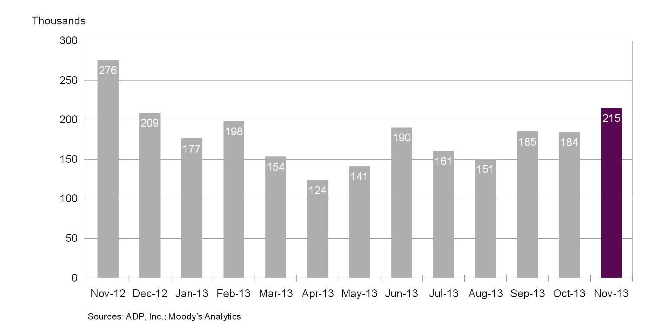 Last month's report from ADP contained a word caution for the labor market, and there was much cause for concern. From June through October, job creation decreased in every subsequent month, according to the payroll processor's data. At the time, October's 130,000-job gain was the lowest number of additions recorded since April. Even after September's 166,000 payroll additions was downwardly revised, the month's job creation seemed shockingly low. Official government data told a similar story. Private and government employers added an average of only 143,000 jobs per month from July through September, a decrease from the 182,000 jobs per month added from April through June and the 207,000 jobs in the first three months of the year.
As Moody's Analytics chief economist Mark Zandi, whose firm helps compile payroll processor ADP's National Employment Report, suggested, the party responsible for the month's lower growth is clear. "The government shutdown and debt limit brinksmanship hurt the already softening job market in October," he said in the report, and the hurt he spoke of is more than a minor bruise.
Since average monthly growth had fallen below 150,000, "any further weakening would signal rising unemployment," Zandi added. But the tenor of ADP's jobs report has completely reversed. In regards to the November data, the economist commented that the labor market remained surprisingly "resilient to the government shutdown and brinkmanship over the treasury debt limit. Employers across all industries and company sizes looked through the political battle in Washington. If anything, job growth appears to be picking up."
The first sign that job growth was picking up came in the Department of Labor's October Employment Situation Report. Even though the numbers contained in ADP's October National Employment Report held a warning for the more authoritative jobs report from the Department of Labor. However, the numbers defied expectations. The report revealed that total nonfarm payroll employment rose by 204,000 in October, an indication that the 16-day shutdown of the federal government did not prevent employers from adding positions to their payrolls at a more robust pace than expected.
Not every job statistic had improved — the unemployment rate did tick up one percentage point to 7.3 percent, the labor force participation rate dipped, and part-time, low-wage jobs led the gains — but there was evidence that an important trend in job creation was beginning to change. November's government jobs report will provide an indication of whether that change was temporary or the strengthening the labor market can be sustained.
Economists seem to believe the gains can be sustained. "Not only is the job market healthy, but it's improving going into year-end," Societe Generale economist Brian Jones told Bloomberg. "We're optimistic on growth next year, continued improvement, further reductions in the jobless rate."
If the trend continues, job creation will slowly begin to approximate what is expected from the trend in initial claims for unemployment benefits — which act as a proxy for layoffs. Excluding a temporary spike due to the furlough of federal employees during the government shutdown, jobless claims have been declining for much of the year, but hiring had remained stubbornly low. The improving trend in claims data has suggested "ongoing labor-market improvement," as TD Securities strategist Gennadiy Goldberg explained after the Labor Department's September 26 claims report.
But while "companies are lean and mean," the "hiring that usually goes along with [lower] claims like these just isn't happening," Maria Fiorini Ramirez chief economist Joshua Shapiro told Bloomberg. "The claims data are flashing a much stronger signal" than other data such as payrolls, he added. Economists expect the Labor Department's report to show 180,000 job gains for November, down from October's 204,000. They also forecast the unemployment rate to fall from 7.3 percent back down to 7.2 percent.
Stronger job growth means working Americans will have more confidence in the economy and the needed paychecks to boost consumer spending. If American consumers are in difficult position, so is the economy — consumer spending accounts for approximately 70 percent of gross domestic product and because government and business spending have remained weak, the economy is depending even more on household spending to fuel growth.
Here's how the major U.S. equity indices traded on Wednesday:

Follow Meghan on Twitter @MFoley_WSCS
Don't Miss: Report: Democratic Presidents Produce Better Economic Results.