ADP: Service Sector Leads Small September Jobs Gains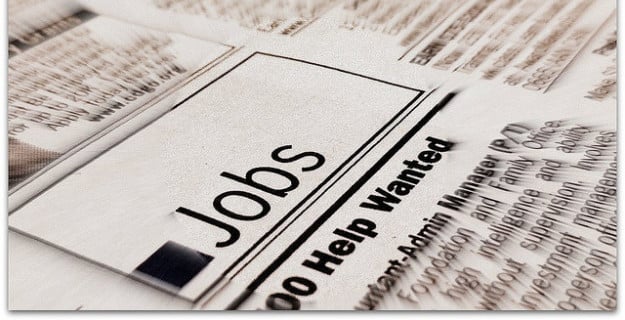 "The job market appears to have softened in recent months. Fiscal austerity has begun to take a toll on job creation," said Moody's Analytics chief economist Mark Zandi, whose firm helps compile payroll processor ADP's National Employment Report. However, "while job growth has slowed, there remains a general resilience in the market. Job creation continues to be consistent with a slowly declining unemployment rate," he said in the report.
But still, the 166,000 jobs United States employers added to their payrolls in the month of September fell below economist expectations for 180,000 additions. September's job gain was marginally better than August's revised 159,000 job increase, a smaller figure than originally estimated.
It is important to remember than ADP's report is typically seen as less accurate than the government's numbers, which ordinarily would be released Friday as part of the Bureau of Labor Statistics's Employment Situation report. For example, in August, ADP initially announced that 176,000 new jobs were created, but the government's monthly report showed that only 162,000 jobs were created, even though the unemployment rate dropped from July's 7.4 percent to 7.3 percent.
The unemployment rate ticked down largely as the result of job hunters dropping out of the workforce, not because of high job creation. The consensus estimate for August's employment report is 181,000 new jobs and for the unemployment rate to hold steady at 7.3 percent. BLS numbers include government workers, while ADP's report does not.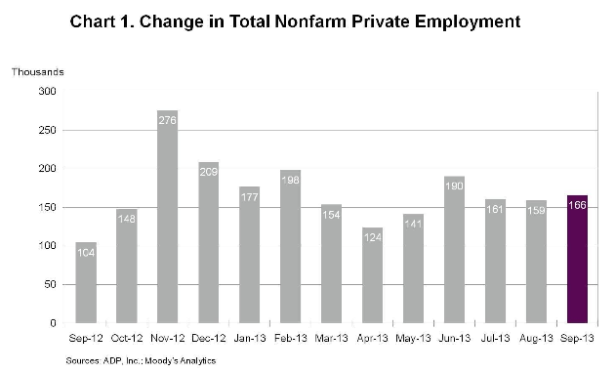 However, Wednesday's numbers will be the first and only snapshot of September's employment situation until the first partial shutdown of the federal government in 17 years comes to an end. That government shutdown put as many as 800,000 federal workers out of work on Tuesday.
The general tenor of ADP's jobs report is that the labor market struggled to make progress in the past month. Even though September's increase in payroll additions was greater than the gain in August, job growth is weakening. ADP's data show that over the past three months, the economy added an average of just 162,000 private jobs per month, which compares to 220,000 at the beginning of the year.
When Department of Labor's statistics are used, the numbers are even worse: Job growth averaged 148,000 jobs per month over the past three months and 224,000 jobs in the previous three months. According to Brookings Institution's Hamilton Project, at the rate of 162,000 job additions per month, it would take seven years to fill the so-called jobs gap left by the recession. At the pace of 148,000 job additions, it would take eight years and four months.
"The labor market is not weak but not as strong as we'd like," Raymond James & Associates chief economist Scott Brown told Bloomberg. "There's a lack of traction. It's a sign things have slowed down a bit in the economy."
Small companies — those with fewer than 50 employees — led the September job gains, adding 74,000 new positions, according to the ADP. Comparatively, large businesses — those with 500 or more workers — added 64,000 workers, and midsize businesses expanded their payrolls by 28,000 jobs.
In what has become a common pattern in employment gains in 2013, the majority of new September jobs came in the services sector, which added 147,000 of the month's 166,000 new jobs. For much of the summer months, hiring was concentrated in part-time or contract employment in low-wage industries like the retail and restaurant sectors. The problem is that many Americans who want to work full time cannot. As of August, there were 7.9 million individuals who wanted full-time employment but could only find part-time work, and, as a result, the underemployment rate rose to 13.7 percent.
By sector, manufacturing added 1,000 new positions; construction added 16,000; professional and business services added 50,000; and, trade, transportation, and utilities added 54,000. However, financial firms cut 4,000 jobs.
Most data suggest that while layoffs are declining, job creation has yet to pick up significantly. Throughout the month of September, weekly claims for unemployment benefits primarily trended down. The recent declines in jobless claims do indicate to many economists that employers have ended the long cycle of elevated layoffs that characterized the 2007 to 2009 recession, even if more progress in hiring is needed.
The number of jobless claims, which serves as a proxy for layoffs, has not strayed far from the 310,000 to 320,000 level. Before the recession began in December 2007, an average of 320,000 initial claims were filed each week due to the normal churn in the job market. So while these claims are trending near pre-recession levels, hiring has remained steady but mediocre.
Hiring needs gain momentum in order to support increases in consumer spending, which accounts for approximately 70 percent of gross domestic product. Because government and business spending have remained weak, the economy is depending even more on household spending to fuel growth.
Follow Meghan on Twitter @MFoley_WSCS
Don't Miss: Is the College Debt Bubble Getting Worse?