Advanced Micro Devices Earnings: Not as Good as Apple
S&P 500 (NYSE:SPY) component Advanced Micro Devices, Inc. (NYSE:AMD) reported net income above Wall Street's expectations for the first quarter. Advanced Micro Devices is a semiconductor company with manufacturing, research and development, and sales and administrative facilities throughout the world. It provides processing solutions for the computing and graphics markets.
Don't Miss: Wall St. Cheat Sheet's newest Feature Trades of the Month!
Advanced Micro Devices Earnings Cheat Sheet for the First Quarter
Results: Net income for Advanced Micro Devices, Inc. rose to $510 million (68 cents/share) vs. $257 million (35 cents/share) YoY. A rise of 98.4% from the year earlier quarter.
Revenue: Rose 2.5% to $1.61 billion YoY.
Actual vs. Wall St. Expectations: The mean estimate for AMD was 5 cents/share on an adjusted basis. Estimates ranged from a loss of 2 cents per share to 12 cents per share.
Quoting Management: "First quarter operating results were highlighted by strong demand for our first generation of AMD Fusion Accelerated Processing Units (APUs)," said Thomas Seifert, CFO and interim CEO. "APU unit shipments greatly exceeded our expectations, and we are excited to build on that momentum now that we are shipping our 'Llano' APU."
Key Stats:
Last quarter marked the fifth straight quarter that the company saw shrinking gross margins as gross margin fell 9.5 percentage points to 42.8% from the year earlier quarter. Over that time, margins have contracted on average nine percentage points per quarter on a year-over-year basis.
Over the last five quarters, revenue has increased 18.4% on average year over year. The biggest increase came in the second quarter of the last fiscal year, when revenue rose 39.6% from the year earlier quarter.
Competitors to Watch: Intel Corporation (NASDAQ:INTC), NVIDIA Corporation (NASDAQ:NVDA), MIPS Technologies, Inc. (NASDAQ:MIPS), Intl. Business Machines Corp. (NYSE:IBM), Apple Inc. (NASDAQ:AAPL), Texas Instruments Inc. (NYSE:TXN), Broadcom Corporation (NASDAQ:BRCM), NetLogic Microsystems, Inc. (NASDAQ:NETL), Silicon Motion Tech. Corp. (ADR) (NASDAQ:SIMO), and Microsoft Corporation (NASDAQ:MSFT).
Today's Performance: Shares of AMD are down 0.7% in after hours trading.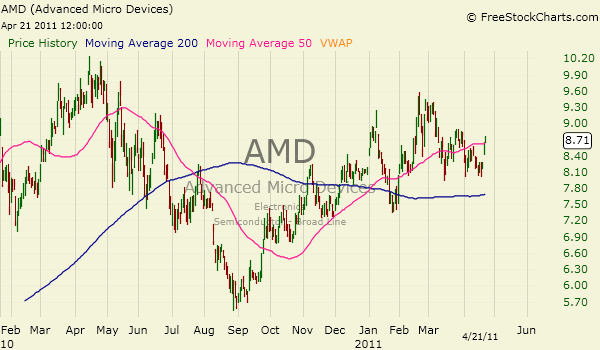 Don't Miss Wall St. Cheat Sheet's newest Feature Trades of the Month!