Aetna Offloads Business and 4 Stocks At 52-Week Highs
Actavis (NYSE:ACT): Closing price $92.46
The firm confirmed that it has filed an Abbreviated New Drug Application with the FDA, requesting approval to market Testosterone Gel, 1.62 percent. Actavis's ANDA product is a generic version of AbbVie's AndroGel 1.62 percent, which is indicated for replacement therapy in males for conditions associated with a deficiency or absence of endogenous testosterone. Shares closed up 0.38 perecnt on Monday to $92.46, and have been traded in a 52-week range of $65.70 to $92.37.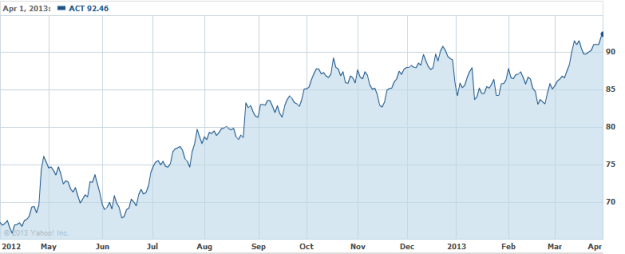 Aetna (NYSE:AET): Closing price $52.38
Aetna has finished the divestiture of its Missouri Medicaid unit, Missouri Care, to WellCare Health Plans (NYSE:WCG). Financials were not disclosed. As previously reported, the sale of Missouri Care is linked with Aetna's proposed purchase of Coventry Health Care (NYSE:CVH), which operates the Missouri Medicaid plan HealthCare USA. Aetna plans to operate HealthCare USA when the Coventry acquisition is closed, which should occur in mid-2013. Shares closed up 2.44 percent on the day at $52.38, having been traded in a 52-week range of $34.58 to $51.73.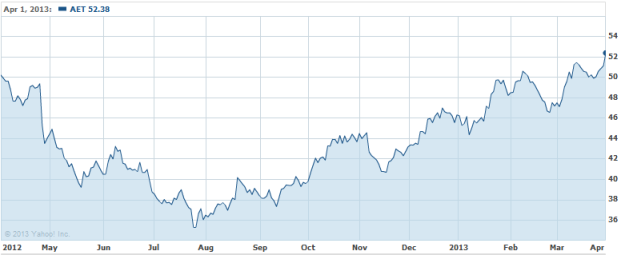 American Greetings (NYSE:AM): Closing price $18.05
The corporation announced Monday that it had reached a definitive agreement through which a newly organized entity owned by the Weiss Family, including its Chairman, Morry Weiss; Director and Chief Executive Zev Weiss; and Director, President and Chief Operating Officer Jeffrey Weiss and related persons and entities, will purchase the company.  Through the terms, American Greetings Class A and Class B shareholders, excluding the Weiss Family and related entities, will receive $18.20 per share in cash, and, if declared by the board, one regular quarterly dividend of 15 cents per share declared and payable in a manner consistent with the company's past practices. Shares closed up 12.11 percent on Monday at $18.05, and have been traded in a 52-week range of $12.53 to $17.49.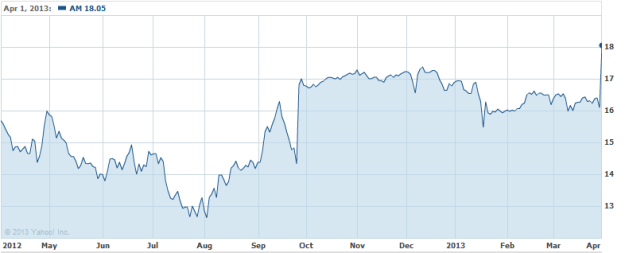 Biomarin Pharmaceuticals (NASDAQ:BMRN): Closing price $61.59
BioMarin has submitted a Clinical Trial Application with the Medicines and Healthcare Products Regulatory Agency in the United Kingdom for BMN-190, a recombinant human tripeptidyl peptidase 1 for the treatment of patients sufering from neuronal ceroid lipofuscinosis type 2, which is a form of Batten disease. The firm should begin enrolling patients in a Phase 1/2 trial in mid-2013. Shares closed down 1.08 percent on Monday at $61.59, having been traded in a 52-week range of $31.91 to $62.96.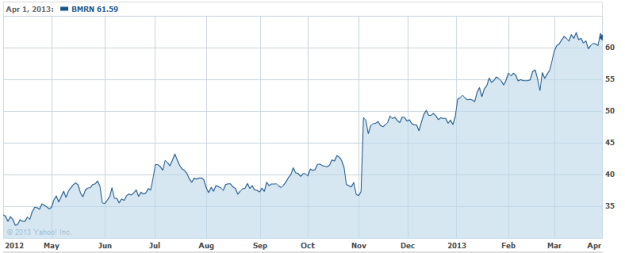 Bristol-Myers Squibb Company (NYSE:BMY): Closing price $41.14
LabCorp (NYSE:LH) has reported that LabCorp Clinical Trials has been chosen as a preferred provider for full-service global central laboratory services and biomarker testing by Bristol-Myers. The five-year accord expnds on a long-standing partnership between the two firms during which LabCorp's worldwide central lab, biomarker and specialty testing capabilities have supported an array of Bristol-Myers Squibb early and late-stage clinical development programs. Shares closed down 0.12 percent on the day at $41.14, and have been traded in a 52-week range of $30.64 to $41.25.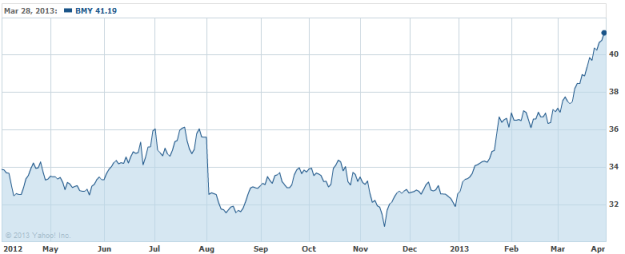 Investing Insights: Is Macy's a Big Mystery?