After Our Attention Span Expired, BP Made a Comeback
We might do better with hypnosis, but close your eyes and try really hard to remember way back, far back, deep into the recesses of our memories … from this past summer. Every media outlet in the world was obsessed with the BP (NYSE:BP) oil spill and the live-cams covering the clean up attempts.
Fast-forward 7 months and the world's most infamous oil giant is reinstating 50% of their old dividend on the back of a ~75% rise in the stock price. As LL Cool J said, "Don't call it a comeback, I've been here for years."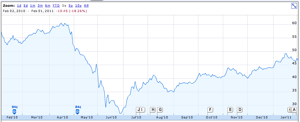 In short, while the media moved on to new bleeding leads and higher SEO stories, BP not only made a Houdini-like escape from prospective bankruptcy, the company has returned into a full-blown money-making machine. Bloomberg writes:
The company has so far slimmed down by selling $22 billion of assets and agreed to an $8 billion share swap with OAO Rosneft to gain access to untapped Russian reserves in the Arctic Kara Sea.
Fourth-quarter net income was $5.6 billion, compared with $4.3 billion in the year-earlier period.
Although BP posted a net loss of $3.7 billion, the $40.9 billion charge for the Gulf oil spill will one day stop crippling the company. Now that they are shedding assets and increasing efficiencies, the company is actually in a place to emerge from the oil spill as a leaner and meaner energy company.
It sounds ironically scary, but the Gulf oil spill may have been the best thing for BP's long term success.
As the oil spill costs fall and blame for the disaster ultimately spreads to the other contributors such as Transocean (NYSE:RIG) and Halliburton (NYSE:HAL), BP will continue to reduce the cost side of the ledger and ramp up the revenue side. We could be witnessing one of the fastest comebacks in business history.
OK, enough of BP. Let's get back to breaking news in Egypt!
Start Off 2011 by Improving Your Financial Health: Join the winning team of stock pickers with Wall St. Cheat Sheet's acclaimed premium newsletter >>