After Q3, Should Investors Worry About Whole Foods' Well-Being?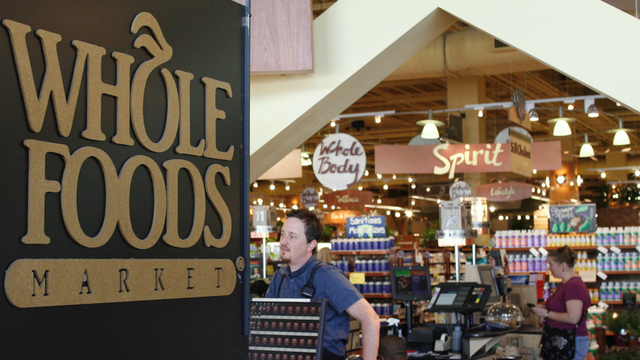 Sales of organic foods are increasing at an annual rate of between 7 and 8 percent — approximately half the pace of their pre-financial crisis sales growth but around double the rate of total grocery sales, according to the United States Department of Agriculture. This is clear evidence that despite the generally higher prices for organic products, many Americans have not decided to forgo their organic cherry tomatoes.
But still, compared to more traditional grocery store chains, investors are not overly impressed with Whole Foods (NASDAQ:WFM) — the market leader of natural and organic supermarkets. Its shares have gained around 40 percent this year to date, while Safeway (NYSE:SWY) has advanced nearly 90 percent, Kroger (NYSE:KR) has jumped close to 65 percent, and Supervalu (NYSE:SVU) has rallied 178.54 percent. Still, Whole Foods is not exactly a bargain. At 36.1 times forward earnings, the stock trades at nearly double Kroger's multiple and at a 30 percent premium to its five-year average.
A minor problem for Whole Foods is obvious in the nickname it has earned thanks to its high prices: "whole paycheck." Yet, the company has begun to strategize. In order to win more customers — who may be concerned about where their dinners are sourced, but not able to spend their whole paychecks on $5 per dozen pastured-raised eggs and hemp milk — Whole Foods has dropped some prices.
However, the lower prices have not cut gross margins. The company is growing fast enough that its greater scale has compensated for the lower prices. In the last quarter, the grocer opened a record 12 stores and a total of 32 were opened in the past fiscal year. leaving Whole Foods with 367 stores occupying over 13.9 million square feet. But, ahead of the earnings release, analysts were still expecting the company's fiscal fourth-quarter results to reflect some temporary strains.
Indeed, some strains were visible. On Wednesday, after the markets closed, Whole Foods reported that the most important metric of retail strength decelerated in the fourth quarter. Comparable same-store sales edged up just 5.9 percent in the three-month period ended in September — the slowest pace recorded this year. Even worse is the fact that sales have increased just 5.8 percent in the current quarter. The grocer also lowered its sales forecast for fiscal 2014 by 1 percent, with growth between 5.5 percent and 7 percent now expected. That new estimate disturbed investors. After earnings were released, shares of Whole Foods dropped as much as $5.37, or 8.33 percent, to $59.10 — a significant decrease for the stock, which has advanced 41.44 percent this year through Tuesday and gained 32.71 percent in the past 12 months.
Revenue rose 2 percent to $3 billion from the year-ago, with earnings before interest, taxes, depreciation, and amortization coming in at $274 million, or 9.2 percent of sales, and net income amounting to $121 million, or 4.1 percent of sales. That translated to diluted earnings of 32 cents per share, an increase of 7 percent from the year-ago quarter. Whole Food's earnings just slightly surpassed analysts expectations for 31 cents per share, keeping with tradition. But sales did miss Wall Street's expectations. The last time that the grocer missed estimates was five years ago, in the quarter when Lehman Brothers collapsed.
Even though results showed some strain, especially from slowing sales at the 49 stores open between eight and 11 years, co-founder and co-chief executive officer of Whole Foods Market John Mackey framed the fourth quarter operating results as a contribution "to the best fiscal year performance" in the company's 35-year history. For the full year, Whole Foods earned $551 million, or $1.47 per share, while revenue rose 10 percent to $12.9 billion and same-store sales increased 6.6 percent. To accelerate further and provide "communities with fresh, healthy, natural and organic food," the company has 94 leases in its development pipeline.
Follow Meghan on Twitter @MFoley_WSCS
Don't Miss: 5 Fitness Programs #Trending in 2013.