Agribusiness Investing: Can Ralcorp Maintain Its Sizzling Stock Price?
Ralcorp (NYSE:RAH), the leader in private food brands, has seen a sharp rise in its share price.  The old saying, sell in may and go away certainly hasn't applied to Ralcorp.  Prior to the end of April, the company has shown stable returns to investors.  However, shares started heating up at the end of April and continued strong into May.  Looking forward, can Ralcorp keep its current stock price?
On April 29th, it was disclosed that ConAgra (NYSE:CAG) made an unsolicited bid to buy Ralcorp.  Ralcorps' stock price popped 8.5% as shares were halted on the NYSE.  Shares would go on to close at $77.80 (8.9% higher than its previous close).  On May 3rd, Ralcorps' stock price closed at $83.33 after it is reported that ConAgras' first offer was in the low $80s.  After its first rejected buyout bid, ConAgra continued its pursuit of Ralcorp on May 4th, and offered $86 per share.  Shares closed May 4th at $87.39, closely following the buyout offers.  Ralcorp also rejected the second offer, and since then, its stock price has been stuck around $90.  How likely is it that another takeover bid will drive the stock even higher?
ConAgra still appears interested in Ralcorp, as it recently hired a proxy solicitor, Innisfree M&A.  Perhaps ConAgra is planning to use the proxy solicitor to persuade shareholders on a third buyout offer?  However, not to be out done, Ralcorp hired two of its own proxy solicitors, and Credit Suisse (NYSE:CS), in order to defend against any possible hostile takeovers.  Shareholders must be salivating at a possible third offer that could potentially push shares into the high 90s or even higher.
Although most of the recent 26% increase in Ralcorps' share price can be attributed to the takeover offers, let's not forget that Ralcorp also released strong earnings in early May.  The compay reported fiscal Q2 EPS of $1.43, which beat estimates by 20 cents.  Futhermore, the company raised 2011 EPS guidance from $5.38 to $5.45-$5.55.  The company has also been improving profit margins the past three quarters.  Co-CEO Kevin Hunt, is also well aware of the challenges Ralcorp faces in the current market.  He said Ralcorp faces, "dramatic inflation in raw material costs (NYSE:RJA).  In our effort to offset these cost increases, we are continuing to aggressively cut internal costs, eliminate inefficient trade spending and raise prices as appropriate."  Commodity (NYSE:RJI) prices have been forcing many companies to raise prices and pass costs onto consumers.  If Ralcorp wants to generate higher takeover bids, live up to higher EPS guidance, and continue to improve profit margins, then price increases will certainly come sooner rather than later.
Will Ralcorp deliever another strong quarter, topped off with more takeover bids?  Only time will tell.  I leave you with a chart listed below that shows the overperformance of Ralcorps' share price to competitors such as General Mills (NYSE:GIS), Kraft (NYSE:KFT), and Kellogg (NYSE:K).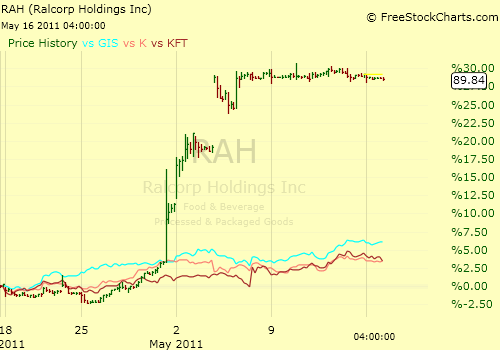 Do you want to profit from commodities and agribusiness? Get a free copy of our highly acclaimed Commodities Premium Investment Newsletter.
Disclosure: No positions.