AIG Receives Delayed Deposit From China and 2 Other Hot Stocks to Watch
American International Group (NYSE:AIG): Current price $43.92
In a regulatory filing on Wednesday, AIG disclosed that has received a delayed deposit payment from the Chinese consortium acquiring its ILFC airplane-leasing business. Last week, AIG reported that it had not received the payment as scheduled, which could have collapsed the deal that was announced in December, worth as much as $4.8 billion. Two weeks ago, the parties agreed to extend the deadline for the closing by a month, to mid-June.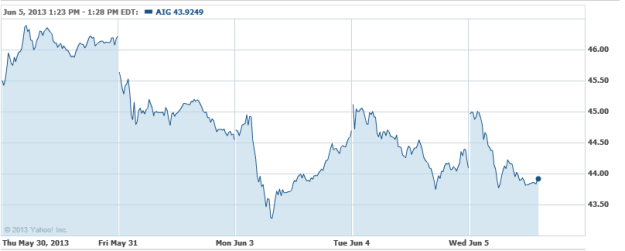 BlackBerry (NASDAQ:BBRY): Current price $13.68
At the Telematics Detroit conference Wednesday, BlackBerry will outline a new solution for automakers which allows them to manage and deliver "Over-the-air" software updates to vehicles. The Software Update Management for Automotive service helps to make machine-to-machine communication directly between the automaker and the vehicle easier, permitting the automaker to give software updates to vehicles in the field.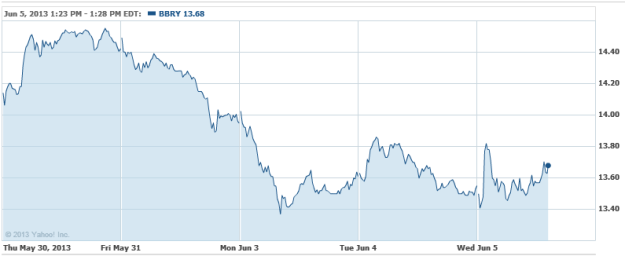 Kandi Technologies Group (NASDAQ:KNDI): Current price $5.77
On Wednesday, Kandi said that JL7001BEV, which marks the first purely electric sedan jointly developed by Kandi and Geely Automobile Holdings Ltd., has been okayed by the Ministry of Industry and Information Technology of China. According to No. 27 public announcement of the Ministry, Kandi Brand/JL7001BEV model is among the latest vehicles to appear on the lists of approved vehicles and Recommended Models for Energy Saving & New Energy Vehicle Demonstration and Promotion in China. Resulting from this approval, anyone buying the electric sedan will now be qualified to receive all levels of national and local subsidies and incentives for EVs.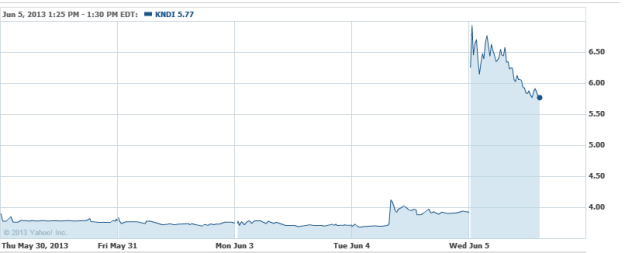 Don't Miss: Here's What Caused the Solar Stock Flare-Up.