AIG Settles with Greenberg Group and 2 Stocks at 52-Week Highs
American International Group (NYSE:AIG): Closing price $40.10
On Wednesday, a $115 million resolution between AIG shareholders and former executives including Maurice Greenberg was okayed by United States District Judge Deborah Batts in Manhattan federal court. The ruling settles claims by AIG shareholders against Greenberg, former Chief Financial Officer Howard Smith, former Vice President of Reinsurance Christian Milton, former Comptroller Michael Catelli and Greenberg companies C.V. Starr and Starr International Co. Shares closed up 1.19 percent on Wednesday at $40.10, and have been traded between $27.18 and $40.40 during the last 52 weeks.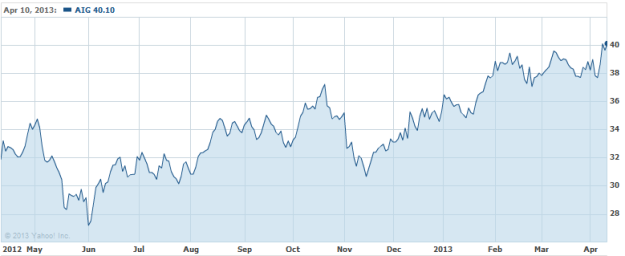 Amgen (NASDAQ:AMGN): Closing price $108.25
Shares hit a new 52-week high on Wednesday above their previous 52-week high of $106.79 with 1.7 million shares traded as of 11:45 a.m. ET. Average volume has been 5.8 million shares during the past 30 days. The company has a market cap of $78.66 billion and is part of the health care sector and drugs industry. Thus far in 2013, shares are up 21 percent as of the close  on Tuesday. Shares closed up 3.79 percent on the day at $108.25, having been traded in a 52-week range of $65.37 to $108.27.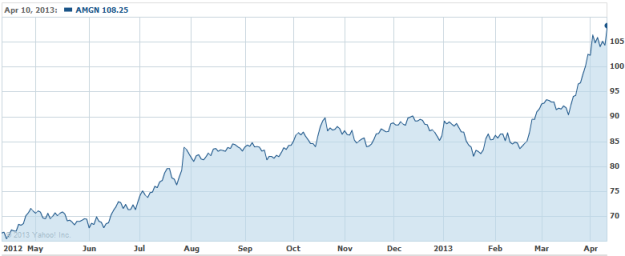 Anheuser-Busch InBev (NYSE:BUD): Closing price $101.84
The Brewers Association on Wednesday released its annual lists of the top 50 craft and overall brewing companies in the United States, based on 2012 sales volume, and number-one in the rankings was Anheuser-Busch, led by Budweiser and Bud Light brands. MillerCoors (NYSE: TAP), Pabst Brewing, D.G. Yuengling, and Boston Beer (NYSE: SAM) comprised the top five. Shares closed up 3.15 percent on Wednesday at $101.84, and have been traded between $64.99 and $106.86 the last 52 weeks.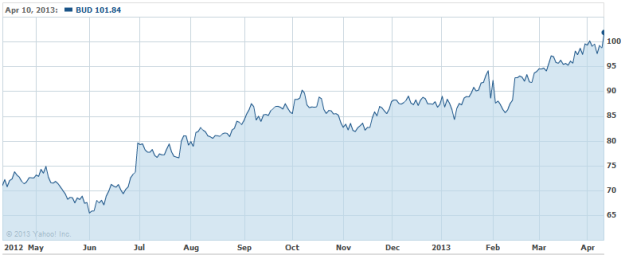 Don't Miss: FOMC Minutes: U.S. Economy Is Back On Track.