AIG Wins California Lawsuit Dismissal and 2 Other Hot Stocks to Watch
American International Group (NYSE:AIG): Current price $40.24
United States District Judge Gonzalo Curiel in San Diego has dismissed a whistle-blower lawsuit brought against AIG by a California couple, Derek and Nancy Casady, who alleged that the insurer defrauded the government by making false claims so as to obtain its federal bailout in 2008. The judge turned aside the False Claims Act complaint because their allegations were based on publicly disclosed information and also because they failed to provide sufficient factual information concerning AIG's alleged scheme to support their fraud claims.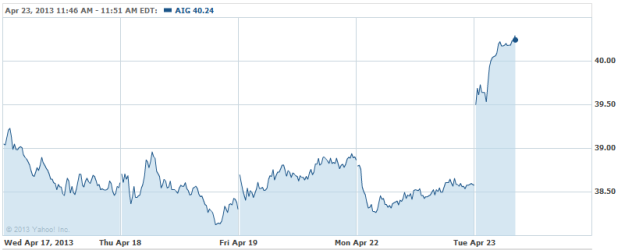 General Electric Company (NYSE:GE): Current price $21.68
President and Chief Executive Pascale Witz of GE Healthcare, Medical Diagnostics is serving on an industry panel at the 2013 BIO International Convention in Chicago, where she will discuss how precision diagnostics are allowing providers to give the correct treatment to the correct patient at the right time. During her talk, Witz comments that while new drugs and targeted treatment have greatly advanced the personalized medicine field, the development of powerful diagnostics is needed, and that incentive for innovation in this field is crucial.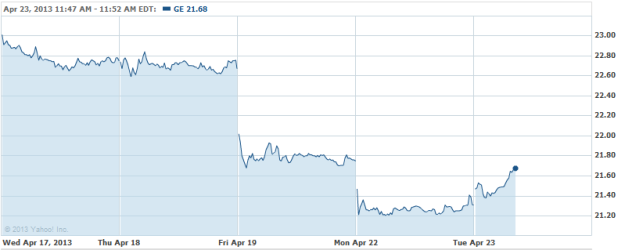 MetLife (NYSE:MET): Current price $37.93
The number-one domestic life insurer hiked its dividend for the first time since 2007, subsequent to its being out of banking limited oversight from the Federal Reserve. MetLife announced Tuesday that the dividend of 27.5 cents per share is payable June 13 to shareholders of record as of May 9. The previous payout was 18.5 cents a quarter. The firm is returning capital to shareholders after having the government oversight that had confounded Chief Executive Officer Steven Kandarian's plans for repurchases and a dividend boost cut back. MetLife exited bank status in February, following deals for the divestiture of deposits and reverse-mortgage and home loan units.

Don't Miss: Here's Why General Electric Disappointed Investors.