Airgas Earnings: Net Income Rises for Third Straight Quarter
S&P 500 (NYSE:SPY) component Airgas, Inc. (NYSE:ARG) reported its results for the fourth quarter. Airgas, Inc., through its subsidiaries, distributes industrial, medical, and specialty gases and hardgoods in the United States. It offers a range of gases, including nitrogen and helium, as well as welding and fuel gases.
Don't Miss: Wall St. Cheat Sheet's newest Feature Trades of the Month!
Airgas Earnings Cheat Sheet for the Fourth Quarter
Results: Net income for the industrial equipment wholesale company rose to $62.6 million (74 cents/share) vs. $40.1 million (47 cents/share) in the same quarter a year earlier. A rise of 56.1% from the year earlier quarter.
Revenue: Rose 12.5% to $1.1 billion YoY.
Actual vs. Wall St. Expectations: ARG fell short of the mean analyst estimate of 85 cents/share. Estimates ranged from 84 cents per share to 86 cents per share.
Quoting Management: "The manufacturing recovery that began in the central regions of the U.S. among larger customers is now evident more broadly throughout the country and in smaller manufacturers. Our medical business began to accelerate this quarter, and utilities and petrochemical customers, as well as customers using our products and services for repair and maintenance operations, continued to show strength," said Airgas Chief Executive Officer Peter McCausland. "We continue to leverage our national footprint and industry-leading platform as sales volumes recover, improving our adjusted operating margin* for the quarter by 140 basis points year-over-year to 12.1% and posting record earnings on sales that are still below pre-recession levels."
Key Stats:
The company has now seen net income rise in three-straight quarters. In the third quarter, net income rose 19.1% and in the second quarter, the figure rose 22%.
Gross margins grew 0.1 percentage point to 54.2%. The growth seemed to be driven by increased revenue, as the figure rose 12.5% from the year earlier quarter while costs rose 12.2%.
Over the last five quarters, revenue has increased 7.8% on average year over year. The biggest increase came in the most recent quarter, when revenue rose 12.5% from the year earlier quarter.
Competitors to Watch: Air Products & Chemicals, Inc. (NYSE:APD), Praxair, Inc. (NYSE:PX), and Rentech, Inc. (AMEX:RTK)
Stock Performance: Shares of ARG are trading at $67.46 as of May 5, 2011 at 11:41 AM ET, down 0.31% from the previous close.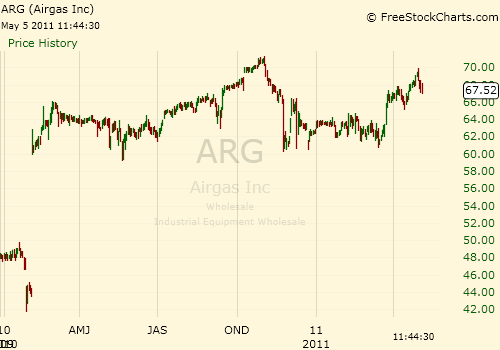 Don't Miss Wall St. Cheat Sheet's newest Feature Trades of the Month!