AK Steel Pops On Goldman Upgrade and 2 Other Hot Stocks to Watch
AK Steel Holding Corp. (NYSE:AKS): Current price $5.12
Goldman Sachs on Monday raised its rating on AK Steel from Sell to Buy, as it said that the outlook for the domestic steel industry is improving due to higher demand. AK shares are by up more 11 percent after climbing as much as 13 percent, marking the largest intraday rise since June 27. Analyst Sal Tharani at Goldman said, "We see the sector heading to a sustainable recovery over the coming years," in a note as he raised his view of the steel industry from Cautious to Neutral.

2 General Electric Company(NYSE:GE): Current price $26.43
GE Capital Bank's online bank, launched earlier in 2013, was selected as a best savings account in the United States in Money magazine's Best Banks 2013 list. The magazine's November issue looks at retail banks, online banks, and credit unions based on research by the financial services consulting firm Novantas. GE Capital Bank offered one of the highest interest rates of all online accounts considered, having no transaction fees and no minimum balance requirements.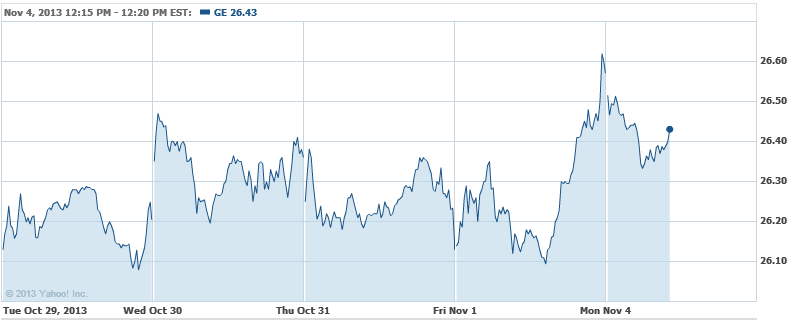 Vale SA (NYSE:VALE): Current price $16.91
When Vale releases its third-quarter figures on Wednesday, it is set to deliver its first quarterly profit increase in more than two years thanks to reduced costs and iron-ore prices rising past analysts' forecasts. The world's No. 1 iron-ore producer is expected to post net income of $2.8 billion, according to data compiled by Bloomberg. Such a number would be a 70 percent increase year over year and the first rise since the second quarter of 2011. Bloomberg Industries said that Vale's 96 percent estimated increase in earnings per share since 2012 is the highest among 14 global peers.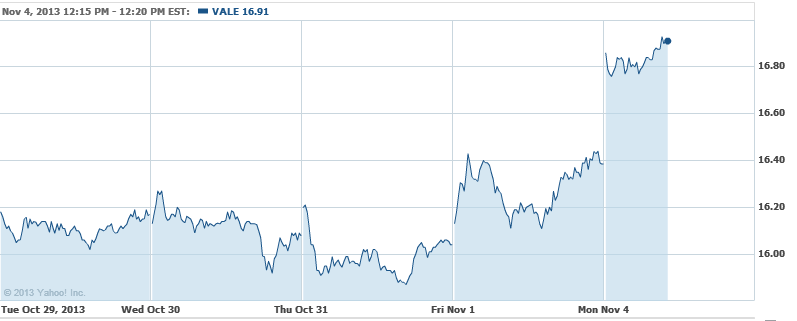 Investing Insights: Can Barrick Gold Move Higher?