Alcatel CEO Warns of Dire Future and 2 Other Hot Stocks to Watch
Alcatel-Lucent SA (NYSE:ALU): Current price $3.69
On Europe-1 radio Tuesday, Alcatel's Chief Executive Michel Combes warned that the telecommunications equipment manufacturer might go under if it can not reduce costs and jobs further. Combes spoke prior to a protest by workers in Paris about 10,000 job cuts planned by the company, which has lost revenue almost every year since United States-based Lucent Technologies merged with France's Alcatel back in 2006. The company is among a number of once-successful cellphone makers that has fought to keep up with rapidly changing competition and technological changes.

The Coca-Cola Co. (NYSE:KO): Current price $37.91
On Tuesday, Coke posted quarterly earnings that met consensus, as it sold more of its namesake soft drinks, together with teas and waters, despite a difficult economy. Analyst Tom Mullarkey at Morningstar professed to be encouraged by the company's worldwide volume growth, which came to 2 percent overall, along with the popularity of the Coca-Cola brand in North America. Net revenue fell in the third quarter, but the analyst remarked that, "Excluding currency and structural changes, they had both revenue growth and operating income growth and that looks pretty good."
Citigroup Inc. (NYSE:C): Current price $49.68
Citi said that its earnings fell a bit in the third quarter following a $1 billion drop in revenue from its bond trading unit, and a slide in mortgage refinancing. Net income for the July-to-August period slipped from $3.27 billion to $3.26 billion year-over-year after excluding an accounting gain and other one-time items. The earnings came to $1.02 per share versus $1.06 per share in 2012. Revenue dropped to $18.2 billion compared with $19.2 billion last year.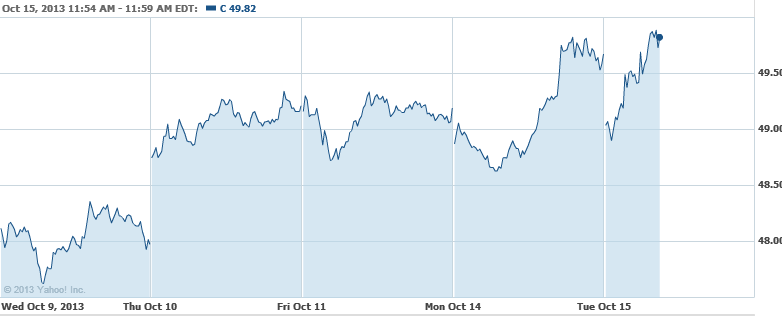 Don't Miss: Lawrence Summers: U.S. Debt Will be Paid, and Paid On Time.