Alcatel Job Cuts Face French Government Opposition and 2 Other Hot Stocks to Watch
Alcatel-Lucent SA (NYSE:ALU): Current price $3.54
As expected, Alcatel is running into opposition from the government of France regarding its announced plans to eliminate thousands of jobs in several countries. The Prime Minister said that the government wants to lower the number of job losses in France, in which Alcatel-Lucent said it would cut 900 jobs and replace another 900 employees through subcontracting arrangements or internal transfers. The government is now asking the firm to revise its plans, said a report in the Wall Street Journal. A recently enacted law allows the French government a role in approving job cuts at big companies such as Alcatel-Lucent.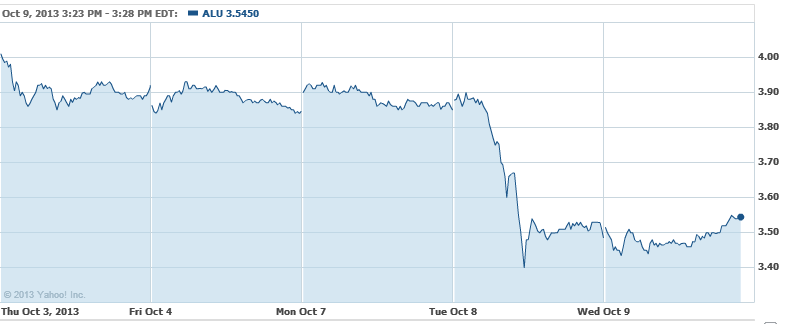 Ariad Pharmaceuticals Inc. (NASDAQ:ARIA): Current price $5.91
Ariad shares have plummeted after the FDA placed a hold on enrollment in all trials of the firm's approved cancer drug Iclusig due to blood clots among participants. Ariad is down around 72 percent Wednesday in very heavy trading, and had lost 31 percent of its value in the 12 months through Tuesday. Iclusig was okayed in 2012 for two rare forms of leukemia, and will continue to be given to persons already in the trials, though with some doses being reduced, according to a company statement released today. The FDA placed a partial hold on the trials following results from one study finding significant arterial thrombosis occurring in 11.8 percent of Iclusig-treated patients, and cardiovascular events in 6.2 percent.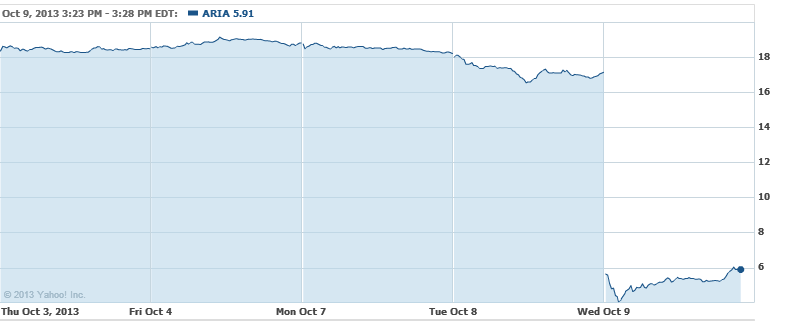 Micron Technology, Inc. (NASDAQ:MU): Current price $18.18
On Wednesday, Micron announced that it has chosen Tom Snodgrass as vice president, System Solutions. Snodgrass will oversee Micron's System Solutions business that is centered upon delivering enterprise-class solutions to the market, using Micron NAND Flash and DRAM memory. Snodgrass comes to Micron with over 30 years of tech experience in a number of senior management roles across several top firms, including the past 13 years managing storage solutions at PMC-Sierra. Snodgrass served as PMC-Sierra's vice president of Corporate Strategy and Corporate Technology from 2011 to 2013, and as that company's vice president of product development, Enterprise Storage Division, from 2003 to 2010.

Investing Insights: Is Alcatel-Lucent Poised to Move Higher?