Alcatel-Lucent Helps Belgium's Telenet With Video & Data and 2 More Heavily Traded Stocks to Watch
Alcatel-Lucent (NYSE: ALU): Current price $3.61
Alcatel is helping Belgium's cable broadband provider Telenet address the constantly expanding video and data demands of its customers, along with preparing for future increases in demand, by deploying the world's most powerful IP Core Router, the 7950 Extensible Routing System. Core routers direct the data traffic at the center of a network, processing terabits of data per second. The Alcatel-Lucent 7950 XRS sullies as much as five times the capacity of other core routers on the market, permitting operators such as Telenet to meet the demands of  video, cloud, and high-speed wireless services and applications.
Advanced Micro Devices Inc. (NYSE:AMD): Current price $3.37
AMD shares are down about 3.50 percent Monday in very heavy volume, extending last week's post-earnings losses. Revenue and earnings did surpass estimates, exposure to the low-end consumer computing segment ignited worries of vulnerability to ongoing weakness in demand for personal computers. AMD posted third-quarter net income of $48 million, or 6 cents a share, on revenue that was 15 percent higher than in 2012, to $1.46 billion.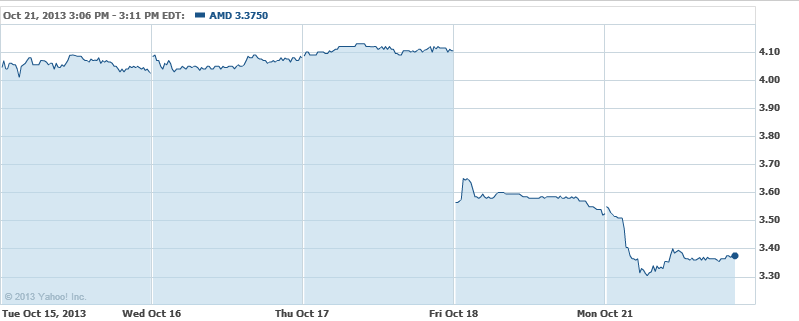 Oracle Corp. (NYSE:ORCL): Current price $32.89
To address the needs of Java development teams spanning the globe to leverage their existing Java skills while building advanced user interfaces based on newer technologies, and also respond to developers' requests, Oracle has debuted NetBeans IDE 7.4. The new release includes enhanced HTML5 and JavaScript development features and browser integration with existing and new Java Platform, Enterprise Edition and PHP applications. Beyond that, it also permits developers to work with and become familiar with the new features of the forthcoming Java Development Kit 8 intro.

Don't Miss: Is America's Oil and Gas Industry Overdoing it?