Alcatel-Lucent Is Chosen By Sprint for TDD-LTE Network and 2 More Heavily Traded Stocks to Follow
Alcatel-Lucent (NYSE: ALU): Current price $3.31
Alcatel's new ultra-broadband TDD-LTE mobile access network has been chosen by Sprint, making use of newly-purchased 2.5GHz spectrum for a network expansion that will be the first use of the tech in a national deployment in North America. TDD LTE's capabilities will enable Sprint to supply immense capacity to its customers in the United States in support of next-generation services and applications, like gaming and high-definition video streaming.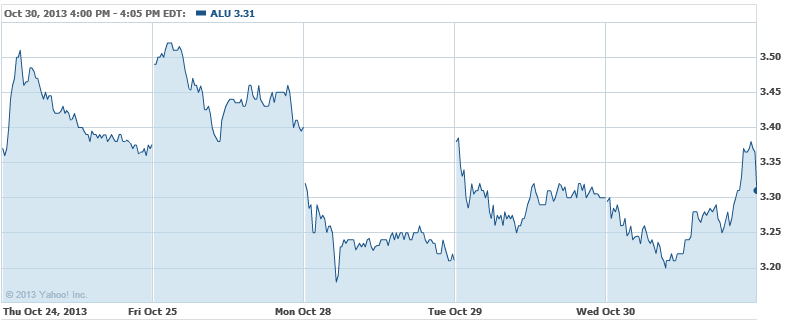 Intel Corp. (NASDAQ:INTC): Current price $24.52
A knowledgeable source says that Intel is in discussions with Verizon Communications about having the latter take over its endeavor to deliver TV over the Internet, employing a new kind of set-top box. The person also related that while the parties have no agreement in place, such a deal would probably put an end to Intel's involvement in the project. The AllThingsD website previously reported on the talks. Intel had intended to offer a pay-TV service in the United States that would rival Comcast Corp. and DirecTV.  The idea was to use Intel-designed set-top boxes, which would receive programming via the Internet.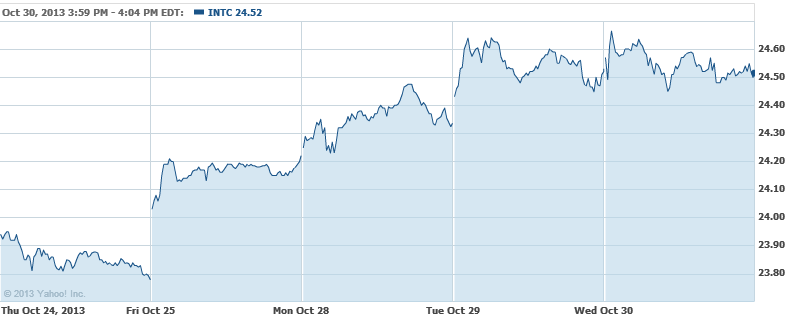 Gilead Sciences Inc. (NASDAQ:GILD): Current price $72.65
Gilead has reported a 17 percent rise in quarterly net profit and increased its outlook for full-year sales, while revenue and demand for its flagship HIV drugs surpassed consensus. Analysts believe that the firm's sales will surge even higher in 2014 when Gilead will launch a new so-called HCV treatment for people infected with the liver-destroying hepatitis C virus. When adjusted for one-time items, Gilead earned 52 cents per share in the third quarter, beating the average analyst estimate of 48 cents, said Thomson Reuters I/B/E/S.
Don't Miss: Mobile Phone Market Soars: Here Is What Rose Highest.