Alcatel-Lucent Left in the Lurch by Nokia and 2 More Heavily Traded Stocks to Follow
Alcatel-Lucent SA (NYSE:ALU): Current price $3.79
The Wall Street Journal reported Tuesday that Nokia Corp. (NYSE:NOK) will not pursue a purchase of portions of Alcatel-Lucent after evaluating various options connected with the French telecom gear firm's business arms. In September, Reuters cited a number of sources that said Nokia was holding internal negotiations about whether to approach Alcatel-Lucent regarding a link-up as part of the company's strategic review after the planned sale of its handset unit to Microsoft. After mulling whether Alcatel's IP-routing and wireless divisions would suit its NSN telecoms equipment division, Nokia elected not to pursue formal discussions at this time.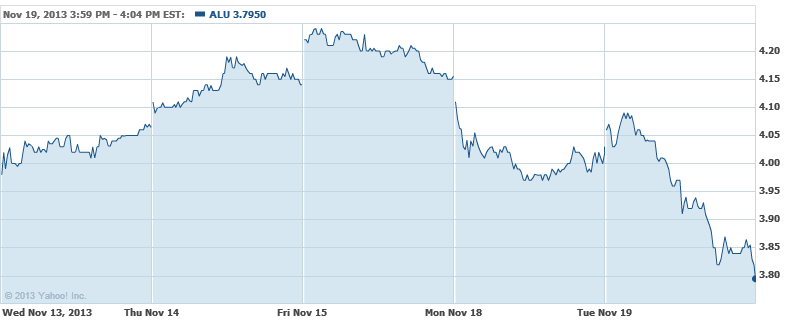 Citigroup Inc. (NYSE:C): Current price $51.16
Citigroup is among a number of banks with stocks owned by a Securities and Exchange Commission official who has been arrested and charged with lying about his positions in the banks. Steven Gilchrist, a compliance examiner with the SEC's New York office, is accused of three counts of making false statements about owning stocks in banks including Citigroup Inc., Bank of America Corp., and Morgan Stanley, which constitutes a violation of the agency's ethics rules. Gilchrist, 48, was charged in a complaint filed Tuesday in Manhattan federal court; he is accused of lying to the SEC in January and February regarding his holdings. If convicted, he could face as much as 15 years in prison.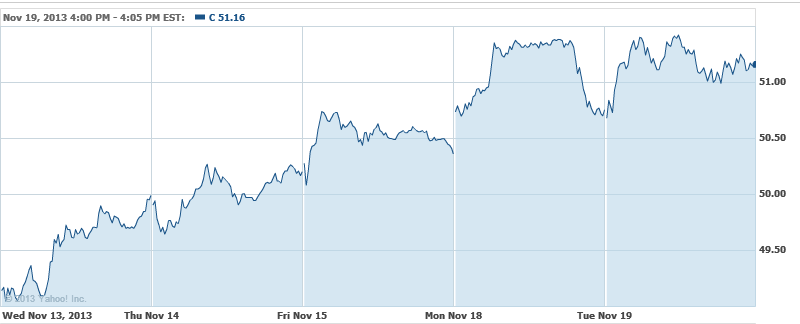 Intellipharmaceutics International Inc. (NASDAQ:IPCI): Current price $4.98
Intellipharmaceutics on Tuesday announced that the Food and Drug Administration has given final approval of its dexmethylphenidate hydrochloride extended-release capsules for the 15 mg and 30 mg strengths. Commercial sale of these strengths will begin immediately by the firm's commercialization partner in the United States, Par Pharmaceutical Inc. Intellipharmaceutics shares are up by about 160 percent on Tuesday in heavy trading.

Don't Miss: AT&T Joins the iPhone Pricing Battle.