Alcoa Delays Quebec Smelter Construction and 2 Other Dow Movers to Watch
Alcoa (NYSE:AA): Current price $8.72
Alcoa said that it will push back the construction of a potline at its Baie-Comeau smelter in Quebec, as part of a revised modernization timetable. It will begin readying for the upgrade through the investment of $100 million during the next three years, as well as permanently shutting the plant's two Soderberg potlines. Thus, the new potline that was initially set to become operational by 2016, is now expected to be online by 2019. The $100-million investment for the smelter includes $30 million to upgrade the facility's casthouse in support of the growing automotive market.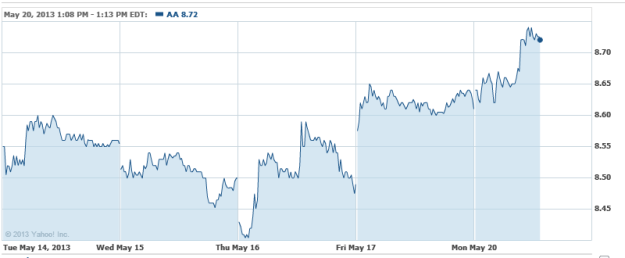 International Business Machines Corporation (NYSE:IBM): Current price $208.27
Bloomberg has appointed the former IBM Chairman and Chief Executive Samuel J. Palmisano to examine its privacy and data standards. Palmisano will report to Bloomberg's board and will initiate a review of the firm's handling of its vast archives of subscriber data and how that data is utilized internally. The appointment is subsequent to reports that Goldman Sachs executives complained to Bloomberg L.P. that a Bloomberg News reporter watched terminal logon information for one of the firm's partners, in order to investigate his employment status. Bloomberg leases its high-speed financial data-splicing terminals for roughly $20,000 a year, and with that amount comes presumed assurance that subscribers' financial data and chat conversations that take place on the terminals are kept secure. Rather, some Bloomberg reporters had used a terminal function, which is now disabled, to locate a subscriber's personal contact information, to see whether a subscriber was logged on, and also to read chats between subscribers and customer service. However, the reporters could not see specific securities or trades.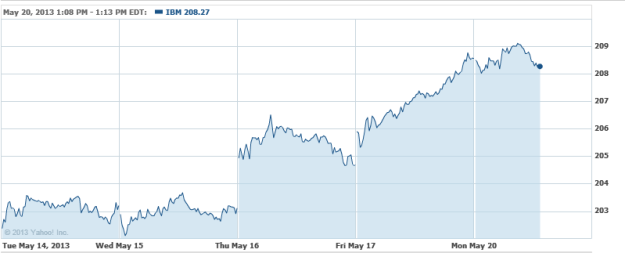 E.I. DuPont de Nemours and Company (NYSE:DD): Current price $56.25
DuPont celebrated the silver anniversary of its global packaging awards program over the weekend, granting top honors to the United Kingdom-based design firm pi 3 for AidPod, which provides life-saving medicines to remote sub-Saharan villages. This novel packaging and distribution program won the premier Diamond and the Special 25th Anniversary 'Food Security' award.William J. Harvey, president of DuPont Packaging & Industrial Polymers, said, "Twenty-five years ago we saw the DuPont Awards for Packaging Innovation program as an opportunity to connect with this vibrant industry and to champion collaboration as a critical component in innovation."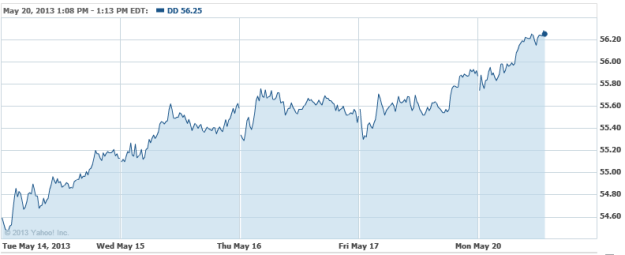 Don't Miss: Can Chevron Beat Exxon Mobil for Oil Supremacy?