Alcoa Kicks Off Earnings Season With a Beat and 2 Other Dow Movers to Watch
Alcoa (NYSE:AA): Current price $7.87
In an statement late on Monday, Alcoa said that strong demand for lightweight aluminum in automobiles and airplanes helped it deal with weak metal prices. The aluminum giant's second-quarter loss was wider than in 2012, but the results surpassed Wall Street's expectations once costs for shutting smelters and other one-off costs were subtracted. Alcoa has customers in many industries, making it a bellwether of the world economy's well-being. Since the company is the first member of the Dow to post quarterly results, its figures receive special attention from investors.

International Business Machines Corp. (NYSE:IBM): Current price $191.32
IBM's recent purchase of SoftLayer Technologies Inc. is expected to reinforce its cloud services portfolio. The acquisition should permit IBM to upsell and cross sell its cloud-based products and services to SoftLayer's customers as it concurrently obtains new ones. The buyer will join SoftLayer in its new cloud services division named IBM SmartCloud, which supplies a wide range of cloud-based products and services to business enterprises. The purchase will strengthen IBM's 100 strong software-as-a-service business solutions, while the combined services will provide the infrastructure for implementing cloud computing in a cost-effective manner.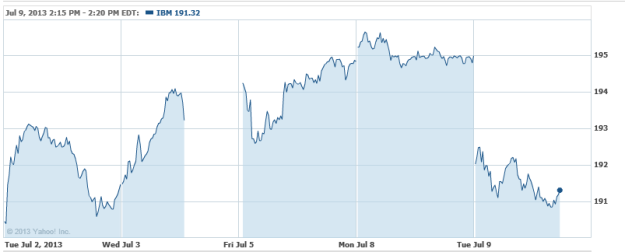 General Electric Co. (NYSE:GE): Current price $23.79
GE has chosen Exelon's ComEd division, which serves Northern Illinois, to provide around 4 million smart meters between 2013 and 2021 in a transaction worth more than $200 million. The smart meters will enable ComEd's customers to better manage their energy usage and also help ComEd more rapidly identify and restore power outages. By deploying advanced meters across its service territory and together with other components of its grid modernization initiative, ComEd intends to transform the delivery of electricity to homes and businesses and allow consumers greater control over their energy consumption and costs.