Alcoa Okayed For Suriname Gold Project and 2 Other Dow Movers to Watch
Alcoa (NYSE:AA): Current price $8.33
The National Assembly of Suriname has okayed a mineral agreement with Alcoa Worldwide Alumina and Newmont Mining Corp through which  to develop that country's Merian Gold Project. The arrangement covers 25 years and the Suriname government will receive a 6-percent royalty, to be paid in gold, according to lawmakers after agreeing the bill late Friday. Merian is located around 40 miles south of the town of Moengo and 19 miles north of the Nassau Mountains. The deal was reached one day after the government and Canada's Iamgold Corp., reached an agreement to expand Suriname's Rosebel gold mine, and extend a partnership to develop it until 2042.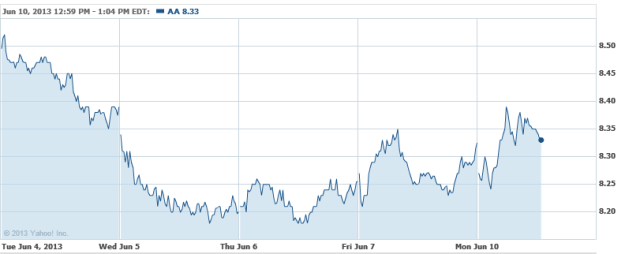 AT&T (NYSE:T): Current price $35.99
AT&T is raising from 20 to 24 months the time requirement required for customers on contract-based plans to earn a fully-subsidized upgrade to a new phone. The change was announced on Sunday, and follows an identical one taken by Verizon Wireless in April. AT&T's new policy is applicable to any customer whose contract will expire in March 2014 or later. Boosting the time between phone upgrades saves the carriers money, as they subsidize each new phone by hundreds of dollars to make it available to customers for $199 or less. Executives had said they planned to curb AT&T's spending on phone upgrades in 2013.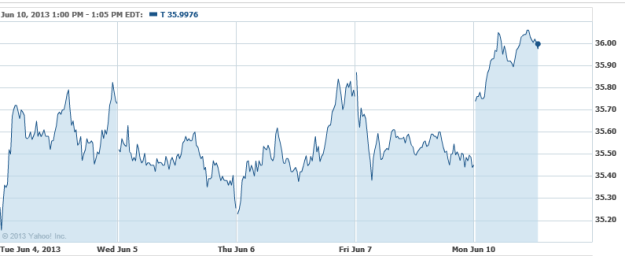 General Electric Company (NYSE:GE): Current price $23.86
On Monday, GE Capital's Telecom, Media and Technology financing unit announced that it served as administrative agent on a new $405-million credit facility for Entravision Communications, which is a diversified Spanish-language media company headquartered in Santa Monica, California. GE Capital Markets served as the one bookrunner on the transaction. Entravision employs its television, radio and digital assets to reach Latino consumers throughout the United States and the border markets of Mexico.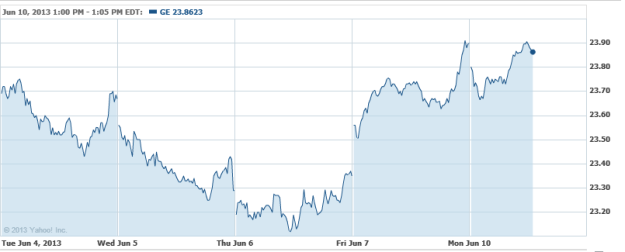 Investing Insights: Is Chevron A Buy Here?