Alcoa Says Ma'aden JV Smelter Shuts Down Potline and 2 More Heavily Traded Stocks to Follow
Alcoa Inc. (NYSE:AA): Current price $8.53
Alcoa said Wednesday that the huge smelter run by the Ma'aden-Alcoa joint venture has temporarily shut down one of two potlines because of problems during ramp-up. Repairs at the $10.8-billion facility, which Alcoa owns and operates along with Saudi Arabian Mining Co, might last into next year, and Alcoa said it will now accelerate the ramp-up of the second, unaffected line. However, the company said that it does not expect any impact on customers.

SolarCity Corp. (NASDAQ:SCTY): Current price $52.46
On Wednesday, SolarCity reported the pricing of offerings of 3.4 million shares of common stock at a price at $46.54 apiece and $200 million aggregate principal amount of its 2.75-percent convertible senior notes due 2018, in concurrent underwritten registered public offerings. Besides this, SolarCity has granted the underwriters a 30-day option to buy as much as an additional 510,000 shares of common stock and $30 million in aggregate principal amount of the notes. The sale of the shares of common stock and the notes are expected to close on October 21, subject to the satisfaction of the usual conditions. Shares are up almost 18 percent in heavy trading.

Geron Corp. (NASDAQ:GERN): Current price $4.36
Geron coverage was begun with a Buy at MLV & Co., with a price target at $6.50. Shares are up by more than 43 percent near the Wednesday close, at $4.46, and still rising.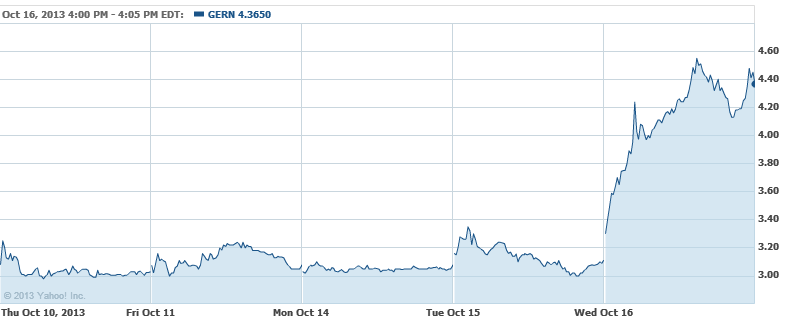 Don't Miss: Big Oil Breaks Out Legal Guns Over Ethanol.