Alcoa Stumbles After Deutsche Bank Downgrade and 2 Other Hot Stocks to Watch
Alcoa Inc. (NYSE:AA): Current price $8.03
Alcoa shares are down some 2 percent Wednesday, following a downgrade at Deutsche Bank to Sell. Analyst Jorge Beristain calculated that aluminum prices will fall between 12 and 13 percent by 2015 in his note to investors, adding that the likely price drop should contract Alcoa's 2014 and 2015 earnings per share by more than 50 percent from current levels. Beristain went on to write that the aluminum firm's stock could fall by 32 percent from current levels as he reduced his rating on Alcoa to Sell from Hold and sharply cut his price target on the shares to from $9 to $5.5.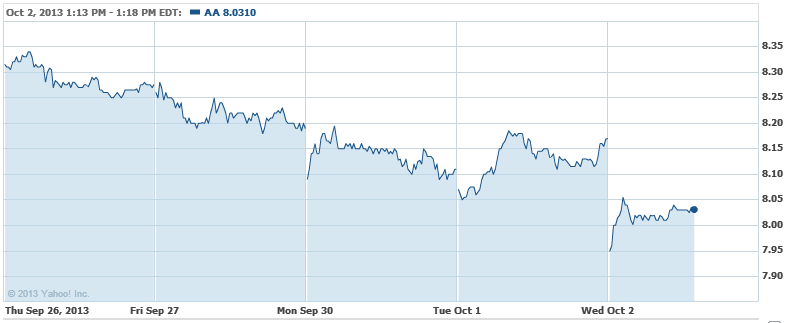 Facebook Inc. (NASDAQ:FB): Current price $50.70
Facebook has improved its advertising offering so as to take care one of its advertisers' biggest headaches, continued engagement. A study by the mobile analytics firm Localytics, which is a Facebook partner, says 66 percent of app users open an application not more than 10 times. To promote more engagement with advertisers' neglected apps, the site will embed call-to-action prompts, like in-app offers or content, in targeted users' newsfeeds. Advertisers will then provide data on who has downloaded, but rarely opened, their applications. This new feature will work together with already-existing mobile app ads which encourage new app downloads.

Empire State Realty Trust Inc. (NYSE:ESRT): Current price $13.32
Shares are up a bit over 2.5 percent at $13.35 in heavy trading after the company's initial public offering raised roughly $754 million. The real estate investment trust owns the Empire State Building along with 11 other office properties. It sold 71.5 million shares at $13 per share, which was at the low end of its prior estimate range. The stock is listed on the New York Stock Exchange under the ticker symbol "ESRT."
Don't Miss: Surprise! BlackBerry's SEC Filings Aren't Pretty.