Alcoa to Review Smelting Capacity and 2 Other Dow Movers to Watch
Alcoa (NYSE:AA): Current price $8.43
On Wednesday, Alcoa reported that it will review some 460,000 metric tons of smelting capacity during the next 15 months for a possible curtailment, in order to maintain its competitiveness, since aluminum prices have slid over 33 percent since their peak back in 2011. This review will include facilities throughout the Alcoa system, and will concentrate upon higher-cost facilities and plants that pose long-term risk due to factors like energy costs or regulatory uncertainties. The potential curtailments could impact about 11 percent of Alcoa's worldwide smelting capacity.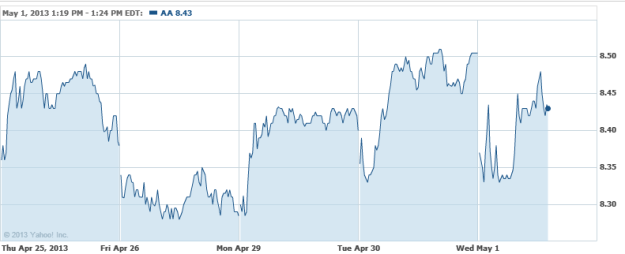 Verizon Communications (NYSE:VZ): Current price $52.90
Verizon will invest $100 million in a solar and fuel-cell energy project which will help to power 19 of its facilities in seven states throughout the United States. Upon completion in 2014, the project will permit Verizon to generate over 70 million kilowatt hours per year of its own green energy, which will be sufficient to power in excess of  6,000 single-family homes annually, while eliminating more than 10,000 metric tons of carbon dioxide, enough to offset the annual CO2 emissions from more over million gallons of gas.

International Business Machines Corporation (NYSE:IBM): Current price $199.62
IBM's board has declared a regular quarterly cash dividend of 95 cents per common share, payable June 10 to stockholders of record on May 10. This new dividend declaration marks an increase of 10 cents, or 12 percent higher than the prior dividend of 85 cents per common share. 2013 is the 18th consecutive year that IBM has increased its quarterly cash dividend, and the tenth year in a row of double-digit percent increases. Further, the company has hiked its dividend by more than 600 percent since the beginning of 2000.

Don't Miss: Chart of the Day: These 5 American Giants Lead the Way.