Alcoa's Latest Armor Product Specified for Use By U.S. Army and 2 Other Hot Stocks to Watch
Alcoa Inc. (NYSE:AA): Current price $8.30
Alcoa announced Thursday that its most recent armor product is now specified for use by the United States Army Research Lab for use in U.S. military vehicles. The ArmX 5456-H151 armor plate satisfies the military's highest performance standards for strength, blast absorption, and ballistics resistance for armored combat vehicles in which the ability to be welded successfully is a material requirement. Alcoa aluminum and armor have been employed by the military for decades in vehicles such as the Bradley Fighting Vehicle and the Humvee.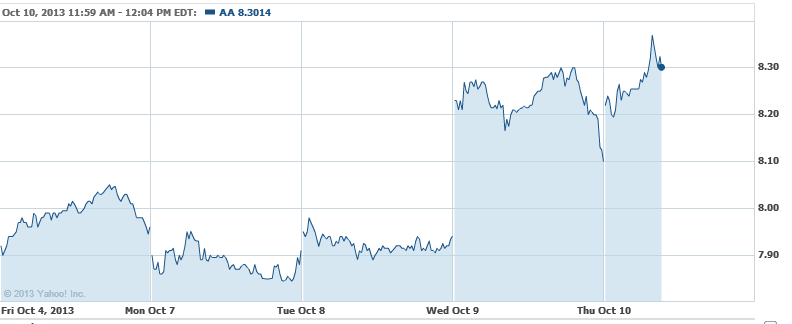 Ford Motor Co. (NYSE:F): Current price $16.98
Colin Braun has driven a Riley Technologies Daytona Prototype race car, powered by the new 3.5-liter V6 Ford EcoBoost race engine, setting a new Daytona single-lap speed record of 222.971 mph in a special record run attempt on Wednesday, breaking the 1987 speed record of 210.364 mph by Bill Elliott in a Ford Thunderbird in qualifying for that year's Daytona 500. Besides that, Braun and Michael Shank Racing also set new world speed records for 10 miles from a standing start (210.018 mph average) and 10 kilometers from a standing start (202.438 mph average).

ARIAD Pharmaceuticals Inc. (NASDAQ:ARIA): Current price $5.58
Leerink thinks that there is still a place for ARIAD's leukemia drug Iclusig in patients in the salvage setting, in the face of continued cardiovascular toxicity discoveries. The firm believes that the benefit of Iclusig is likely to overcome risk in the salvage setting and thus maintains its Outperform on the shares, despite slashing its price target from $28 to $9.

Don't Miss: How Iran Plays the Oil Game, and Wins.