All Nippon Wants Cash from Boeing and 3 Dow Movers Not to Miss
The Boeing Company (NYSE:BA): Current price $85.73
Boeing's number-one customer for the 787 Dreamliner, All Nippon Airways, now wants to be compensated in cash by Boeing, and not discounts on future purchases, for losses accumulated since the plane was grounded in mid-January, says Reuters.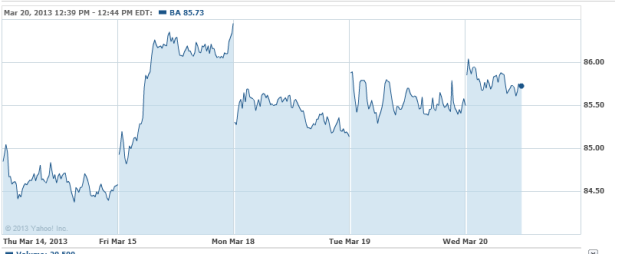 Bank of America Corporation (NYSE:BAC): Current price $12.86
It is thought that MBIA (NYSE:MBI) could run out of cash in about four months, and if its cash flow difficulties are not resolved soon, state regulators will likely seize the division that insures mortgage securities, according to The New York Post. MBIA, which is involved in lawsuits with Bank of America, Credit Suisse (NYSE:CS) and Ally Financial's ResCap business, has a set a target of collecting $3.6 billion from claims against the banks. To reach that figure, MBIA would have to collect $3 billion from BofA, but that bank intends to settle for closer to $1 billion, according to a source.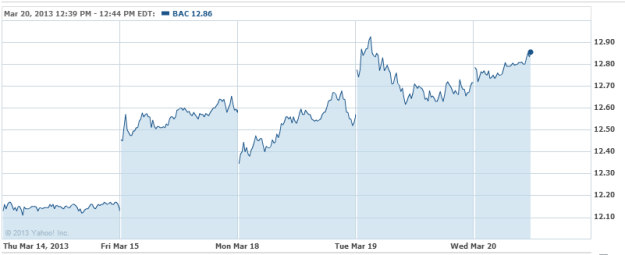 Caterpillar (NYSE:CAT): Current price $86.68
The company has posted its February Electric Power Systems Retail down by 8 percent; Industrial Power Systems Retail for the same period  down by 25 percent; Transportation Power Systems Retail up by 15 percent; and Petroleum Power Systems Retail down by 8 percent.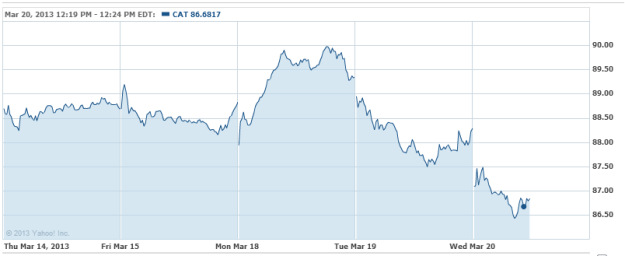 Cisco Systems  (NASDAQ:CSCO): Current price $21.65
On Tuesday, United States District Judge Leonard Davis issued a final decision subsequent to the jury verdict in VirnetX's (AMEX:VHC) patent infringement case against Cisco: Davis ordered that "VirnetX take nothing from Cisco, that Cisco takes nothing of its invalidity counterclaims from VirnetX, and that all pending motions are denied." Last week, a jury found that Cisco did not infringe VirnetX's patents.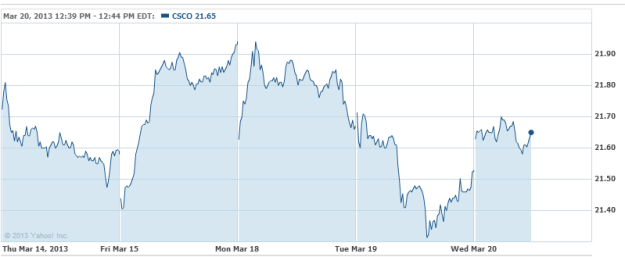 Don't Miss: Is Retirement Nothing But a Pipe Dream for Americans?