Allos Therapeutics, Inc. Earnings: Loss Narrows
Allos Therapeutics, Inc.'s (NASDAQ:ALTH) first quarter loss narrowed, beating estimates. Allos Therapeutics, Inc. is a biopharmaceutical company focused on developing and commercializing innovative small molecule drugs for the treatment of cancer.
Don't Miss: Wall St. Cheat Sheet's newest Feature Trades of the Month!
Allos Therapeutics Earnings Cheat Sheet for the First Quarter
Results: Loss narrowed to $15.2 million (loss of 14 cents/diluted share) from $20.5 million (loss of 20 cents/share) in the same quarter a year earlier.
Revenue: Rose 46.7% to $10.9 million YoY.
Actual vs. Wall St. Expectations: ALTH beat the mean analyst estimate of a loss of 15 cents/share. Estimates ranged from a loss of 13 cents per share to a loss of 17 cents per share.
Quoting Management: "In the first quarter, we continued to make important progress with the trial, use and adoption of FOLOTYN for patients with relapsed or refractory PTCL in the U.S.," said Paul L. Berns, president and chief executive officer of Allos Therapeutics. "In addition, today we achieved a key objective by securing a strategic partner to help advance the global product development and commercialization plan for FOLOTYN. We believe Mundipharma is an ideal global partner, with substantial resources and a demonstrated track record of success in bringing hematology/oncology drugs to market in Europe. Our key objectives for the remainder of the year include growing U.S. sales of FOLOTYN for relapsed or refractory PTCL, advancing studies of FOLOTYN in other hematologic malignancies, and expanding the commercial potential of FOLOTYN outside the U.S. by pursuing regulatory approval in the EU."
Key Stats:
From the fourth quarter of the last fiscal year, the company's current liabilities fell to $16.7 million from $22.6 million.
Competitors to Watch: Seattle Genetics, Inc. (NASDAQ:SGEN), Spectrum Pharmaceuticals, Inc. (NASDAQ:SPPI), Hospira, Inc. (NYSE:HSP), Mylan Inc. (NASDAQ:MYL), Cell Therapeutics, Inc. (NASDAQ:CTIC), Cephalon, Inc. (NASDAQ:CEPH), Accentia Biopharmaceuticals, Inc (ABPI), Celgene Corporation (NASDAQ:CELG), Biogen Idec Inc. (NASDAQ:BIIB), and Genta Incorporated (GNTA)
Stock Performance: Shares of ALTH are up 5.2% from the previous close.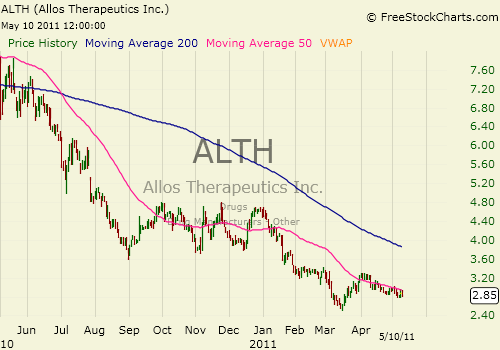 Don't Miss Wall St. Cheat Sheet's newest Feature Trades of the Month!