Altera Earnings: Revenues and Profits Grew
S&P 500 (NYSE:SPY) component Altera Corporation (NASDAQ:ALTR) reported higher profit for the first quarter as revenue showed growth. Altera Corp. designs and manufactures programmable logic devices, HardCopy ASIC devices, pre-defined design building blocks, cores and associated development tools.
Don't Miss: Wall St. Cheat Sheet's newest Feature Trades of the Month!
Altera Earnings Cheat Sheet for the First Quarter
Results: Net income for the semiconductor company rose to $224.1 million (68 cents/share) vs. $153.2 million (50 cents/share) in the same quarter a year earlier. A rise of 46.3% from the year earlier quarter.
Revenue: Rose 33.2% to $535.8 million YoY.
Actual vs. Wall St. Expectations: ALTR beat the mean analyst estimate of 65 cents/share. Estimates ranged from 56 cents per share to 67 cents per share.
Quoting Management: "Despite the anticipated slow down in first quarter sales following a remarkable 2010 growth year, we experienced double-digit sequential growth in our 40-nm based devices, as these products are now entering the best part of their growth phase," said John Daane, president, chief executive officer, and chairman of the board. "Our initial 28-nm Stratix V devices, the first high-end FPGAs at this advanced node, are now shipping—giving us additional capabilities to accelerate the displacement of ASICs and ASSPs."
Key Stats:
The company has enjoyed double-digit year-over-year revenue growth for the past five quarters. Over that span, the company has averaged growth of 57.9%, with the biggest boost coming in the third quarter of the last fiscal year when revenue rose 84% from the year earlier quarter.
Last quarter marked the fifth consecutive quarter of gross margins expanding as the company's gross margin expanded 1.2 percentage points to 72.6% from the year earlier quarter. Over that span, margins have grown on average 3.9 percentage points per quarter on a year-over-year basis.
The company has now seen net income rise in three-straight quarters. In the fourth quarter of the last fiscal year, net income rose more than twofold and in the third quarter of the last fiscal year, the figure rose more than threefold.
Competitors to Watch: Lattice Semiconductor (NASDAQ:LSCC), Xilinx, Inc. (NASDAQ:XLNX), QuickLogic Corporation (NASDAQ:QUIK), Texas Instruments Inc. (NYSE:TXN), Microsemi Corporation (NASDAQ:MSCC), Cypress Semicond. Corp. (NASDAQ:CY), ON Semiconductor Corp. (NASDAQ:ONNN), Broadcom Corporation (NASDAQ:BRCM), TranSwitch Corporation (NASDAQ:TXCC), and Aeroflex Holding Corp. (NYSE:ARX).
Today's Performance: Shares of ALTR are trading at $47.01 as of April 26, 2011 at 5:17 PM ET, up 0.9% from the previous closing price of $45.74.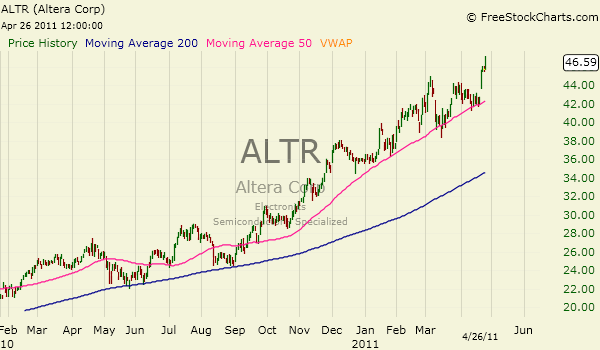 Don't Miss Wall St. Cheat Sheet's newest Feature Trades of the Month!