Amarin Plunges Over FDA Ruling on Vascepa and 2 Other Hot Stocks to Watch
Amarin Corp. (NASDAQ:AMRN): Current price $2.02
Amarin shares are down more than 61 percent in extremely heavy trading after the company was unable to win the support of American advisers to expand the use of its fish-oil pill Vascepa for those with high levels of fat in their blood. The stock had already fallen by 54 percent in the 12 months through October 15. Trading was halted Wednesday during the advisory panel meeting, as the FDA panel voted 9 to 2 that Amarin should complete an evaluation of the drug's ability to benefit the heart prior to an approval decision for patients with high triglycerides. The agency should decide whether to approve the drug for wider use by December 20.
SUPERVALU Inc. (NYSE:SVU): Current price $7.89
The supermarket operator Supervalu has posted a second-quarter profit, versus a year-over-year loss, attributed to operating costs falling. Net income came to $40 million, or 15 cents per share, in the quarter ended September 7, compared to a loss of $111 million, or 52 cents per share, in the same period 2012. Sales increased by 0.2 percent to $3.95 billion, while selling and administrative expenses fell by 14 percent to $465 million.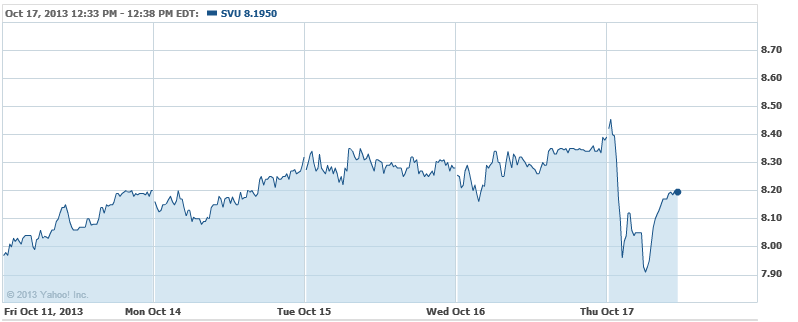 Cisco Systems Inc. (NASDAQ:CSCO): Current price $22.65
In the quickly-growing digital television industry in Asia Pacific, Cisco is the top provider of conditional access and digital rights management solutions, securing content that is delivered to over 100 million digital homes in the region. This important achievement reinforces the firm's leadership in the digital TV industry in Asia Pacific. Based upon an industry-estimated average of 3.3 persons per household, Cisco's market-leading VideoGuard conditional access and digital rights management tech is now giving the critical protection of premium content to more than 340 million viewers.

Don't Miss: Here's How Ford and General Motors Are Doing in Europe.