Amazon Acquires IVONA Software and 3 Hot Stocks Changing Hands Now
Walmart's (NYSE:WMT): Current Price $69.60
Following last month's assurance by the Indian government that an inquiry would be conducted into Walmart's (NYSE:WMT) lobbying practices in the US, India's federal cabinet approved guidelines and the appointment of a retired judge to conduct the investigation on whether the lobbying activities violated any Indian laws. Opposition party, the Bharatiya Janata Party, seized on Walmart's statutory lobbying disclosures to allege that the $25 million it spent was tantamount to bribery.

Dole Food Company (NYSE:DOLE): Current Price $10.68
Dole Food Company (NYSE:DOLE) announced that an unconditional approval had been received from the Chinese Ministry of Commerce to a deal for the sale of Dole's worldwide packaged foods and Asia's fresh produce business to Itochu Corporation. With this, Dole has received all seven required regulatory approvals, and expects to complete the sale within the next 30 days. The fresh fruit and fresh vegetables businesses, however, would remain with Dole.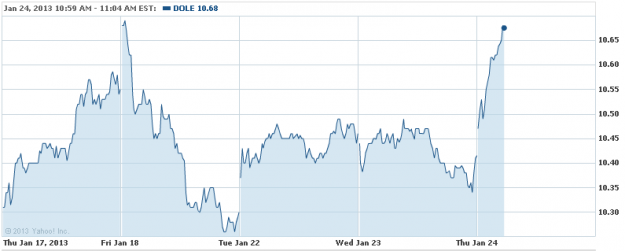 Are these stocks a buy or sell? Let us help you decide. Check out our Stock Picker Newsletter now.
Burger King (NYSE:BKW): Current Price $18.10
After contaminated poultry in China and milk products in New Zealand, it's beef adulterated with horse meat out of Ireland. Burger King (NYSE:BKI) announced it had stopped purchasing beef from Silvercrest Foods, an Irish meat supplier to its UK and Ireland restaurants, after the supplier's patties were found to contain traces of horse meat. Last week, ABP Food Group owned Silvercrest suspended production and recalled 10 million burgers from supermarkets across Britain and Ireland upon the discovery of horse DNA in its beef.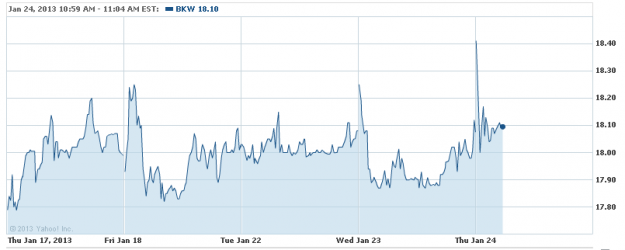 Amazon Inc (NASDAQ:AMZN): Current Price $275.55
Leading text to speech technology company, IVONA Software, has been acquired by Amazon Inc (NASDAQ:AMZN) for an undisclosed amount. Ivona's technologies already power Text to Speech, Voice Guide and Explore by Touch features on Kindle Fire tablets.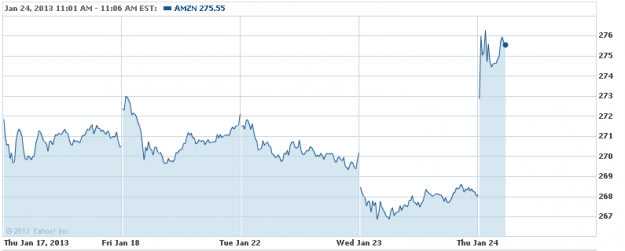 Investing Insights: International Gaming Technology Rally Already Fading.