Amazon Debuts Gifted Memberships of Prime
Amazon.com Inc. (NASDAQ:AMZN): Closing price $372.31
According to The Verge, Amazon will now let Prime members pay the annual $79 fee on behalf of someone else and select a day upon which they will receive an email notification of their gifted membership. At that point, the recipient gets all the perks of Prime, including free two-day shipping, $3.99 overnight deliveries, and access to Amazon Prime Instant Video. Those interested may get started by visiting amazon.com/giftprime.

Universal Display Corp. (NASDAQ: OLED): Closing price $35.44
Universal Display on Friday said that the European Patent Office issued a decision on the previously-disclosed appeal of a prior ruling connected to its European Patent No. 1449238. The Office panel revoked the patent previously allowed by the lower EPO, which had upheld the broadest claim of coverage for organometallic iridium device architectures. The opposing parties included Sumitomo Chemical Co., Merck Patent GmbH, and BASF SE.

Vringo Inc. (AMEX:VRNG): Closing price $3.19
On Friday, Vringo announced that the High Court of Delhi has granted an injunction against ZTE Telecom India Private Limited, ZTE Corp., and Xu Dejun, Chief Executive of ZTE Telecom India Private Ltd. for infringement of India Patent No. 243,980, which is owned by Vringo`s wholly-owned subsidiary, Vringo Infrastructure Inc. Shares of Vringo closed up by 1.59 percent in heavy trading.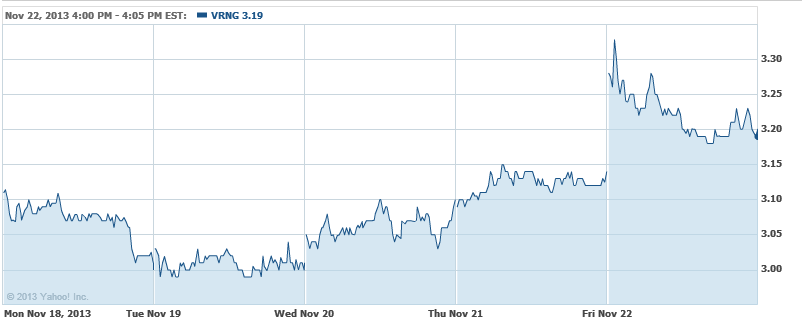 Microsoft Corp. (NASDAQ:MSFT): Closing price $37.55
Xbox One consoles debuted in over a dozen countries including Australia, France, the United Kingdom, Brazil, and the United States as Friday appeared in the respective time zones. Gamers began grabbing the new-generation Xbox One consoles as Microsoft battled Sony to be at the center of Internet age home entertainment. Xbox enthusiasts queued at consumer electronics shops to be among the first to score Microsoft's beefed-up system that extends beyond gaming to online films, music, social networking, and more.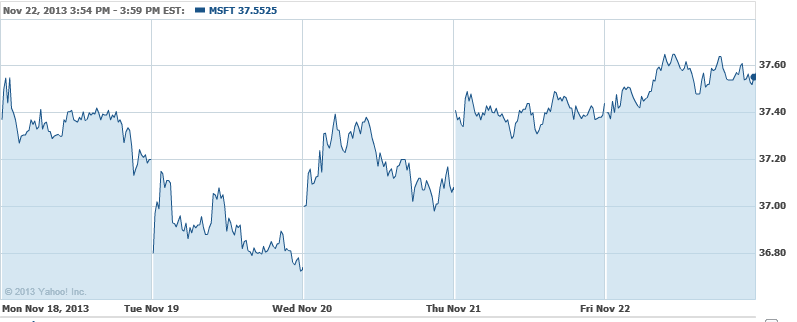 Don't Miss: Patent Retrial Verdict Cuts Samsung to the Core With $290 Million to Apple.