Amazon Expands in Europe, Travelers's Solid Quarter, and 3 More Hot Stocks
Amazon.com Inc. (NASDAQ:AMZN): Shortly after Amazon's plans for new warehouses in Poland surfaced, the company announced that it will be opening two new distribution centers in the Czech Republic next year to better help satisfy demand in Europe. Separately, Amazon has increased the minimum basket size that qualifies for free shipping to $35, the first increase in the U.S. on the free shipping minimum in more than 10 years; the move is likely an effort to encourage more people to sign up for Amazon Prime.
Travelers Cos. (NYSE:TRV): Travelers's shares are up marginally after the company reported earnings per share of $2.30 and revenue of $6.45 billion, beating by $0.66 billion. The company bought up another $800 million worth of stock in the third quarter, and the Travelers board authorized another $5 billion worth of buybacks to add to the $759 million left over from the previous program.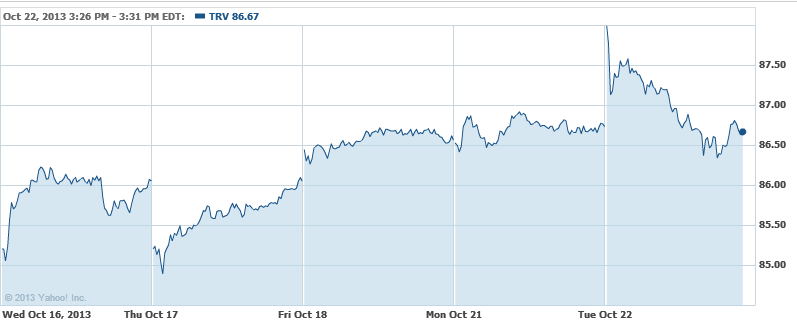 Starbucks Corp. (NASDAQ:SBUX): Starbucks executive John Culver has responded to a CCTV special that accused the coffee chain of pricing items more in China than in the rest of the world, arguing that Starbucks's profits in China are no higher than in the U.S. "We have ongoing relationships with the government and we want to make sure that we are very respectful of them and that we have a very open and honest, and again, a very factual dialogue," Culver said.

RadioShack Corp. (NYSE:RSH): RadioShack shares are having a rough market session: The electronics retailer reported EPS of -$1.11 and revenue of $805 million, missing substantially, by $88.44 million. Comparable stores fell 8.4 percent, exacerbated by a 30.1 percent gross margin that slid from 38 percent as "unproductive" products were cleared from RadioShack inventory.

Coach Inc. (NYSE:COH): Though EPS of 77 cents beat projections by 1 cent, revenue of $1.15 billion missed the mark by $0.04 billion, pushing Coach shares down more than 7 percent. International sales fell to $365 million despite China and Japan offering up strong growth rates; Coach North American sales fell 1 percent during the first quarter to $778 million while comparable-store sales dropped 6.8 percent.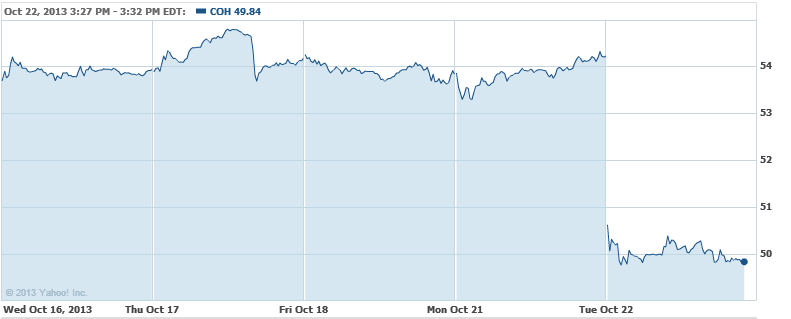 Don't Miss: Here's Why Mobile Startups Prefer Apple's iOS Over Google's Android.