Amazon Is On a Mission to Take Over the World, and It's Working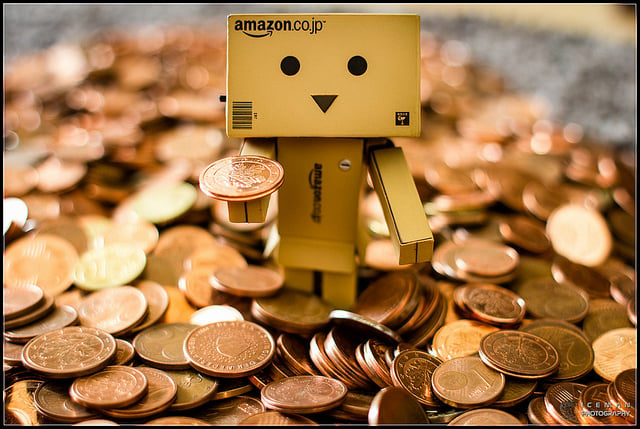 Shares of the three-headed (Internet-technology-media) hydra that is Amazon.com Inc. (NASDAQ:AMZN) closed Thursday's regular session up 3.87 percent at $337.15 per share and jumped as much as 2 percent higher in post-market trading after the company reported strong first-quarter results. Cutting straight to the chase, net sales increased 23 percent on the year to $19.74 billion, above the mean analyst estimate of $19.43 billion. Net income of $108 million, or 23 cents per diluted share, up 27.8 percent on the year, was in-line with the mean analyst estimate.
Although net income remained relatively small — Amazon is working with an operating margin that is 0.7 percent of worldwide sales, down from 1.1 percent on the year — the considerable jump in net sales is, well, considerable. Amazon logged 22 percent net sales growth over the trailing twelve-month period (Amazon's financial wizards are partial to the TTM terminology), and worldwide net sales of $78.1 billion over the last year.
With operating margins that are just a fraction of a percent, Amazon's explosive top-line growth is tantalizing to investors. This is evidenced by the fact that the stock is trading at an incredible 571.44 times TTM earnings. As long as there's no reason to believe that margins will turn chronically negative, it can probably maintain that price level. Given the company's aggressive roll out of new products and services, it seems reasonable to expect strong top-line growth moving forward. Moreover, even small increases in margin will have a dramatic impact on earnings, and investors are clearly willing to pay for this potential.
One of the most interesting, and perhaps most important developments for Amazon over the course of the quarter was the evolution of Amazon Studies and of Prime Instant Video. Amazon announced recently that it had secured an exclusive deal with HBO to offer older seasons of HBO programming through the Prime streaming service, and will be able to offer subscribers the entirety of popular HBO series like The Sopranos and Six Feet Under as well as episodes of new series, including Veep and Girls but not Game of Thrones, three years after they air.
The arrangement could be critical for Amazon, which is competing with the increasingly powerful Netflix (NASDAQ:NFLX) for rank in the pantheon of online video streaming service providers.
Netflix doesn't have the rights to any HBO programming, which means it's missing out on a ton of popular shows that Amazon now has. Premium cable channels like HBO, Starz, and Showtime have been reluctant to license its shows to on-demand services as it still wants people to sign up for premium cable subscriptions in order to get the content. But traditional cable is an aging model, and more people are turning to much less expensive streaming services to get their TV fix.
HBO has its own streaming service called HBO Go, which will be launched on Amazon's recently announced Fire TV set-top box as a part of the deal. This is the first time that HBO has licensed its programming to an outside online streaming service, and it's a big win for Amazon. This, combined with its own original programming — Amazon Studies has green lit six original pilots — gives the service a seriously sharp competitive edge against Netflix.
Amazon's presence in the online video streaming spacing is just one facet of the company's strategy to embed itself in the day-to-day lives of people all around the world. The company's core business is its marketplace, and it's a business that the company is continuously developing and refining.
For example, Amazon announced Prime Pantry in the first quarter. Prime Pantry is a service designed to provide customers with access to low-cost, non-bulk everyday food and personal care items. Amazon also introduced Dash, "an easy-to-use shopping device that allows Prime Fresh customers, and their families, to effortlessly shop hundreds of thousands of items — ranging from groceries to household essentials — from anywhere in their home without having to browse the AmazonFresh website or app. Dash works directly with a customer's AmazonFresh account — simply scan items or say the items you want and Dash finds it for you using voice search that actually works."
Not to be left out, Amazon's cloud business, Amazon Web Services, announced more price reductions. Prices for Amazon Simple Storage, Amazon Elastic Compute Cloud, and Amazon Relational Database Service prices have all been lowered. In addition, Amazon introduced Cost Explorer, a tool that allows customers to help optimize costs. The price reductions will save AWS customers "hundreds of millions of dollars over the next several months alone," according to Amazon founder and Chief Executive Jeff Bezos.
Amazon had little to say about the Kindle this quarter — and to that point, not much happened with it this quarter.
Looking ahead, Amazon is is providing second-quarter net sales guidance in a range between $18.1 billion and $19.8 billion, growth of between 15 and 26 percent. Operating income is expected to come in at a loss between $55 million and $455 million, which includes "approximately $455 million for stock-based compensation and amortization of intangible assets."
More From Wall St. Cheat Sheet: