Amazon Loses NY Court Battle
Online retailer Amazon (NASDAQ:AMZN) has lost its legal challenge to New York's internet sales tax law after the New York Court of Appeals affirmed a lower court's ruling and rejected Amazon's argument that the law requiring sales tax on web purchases was unconstitutional. Overstock (NASDAQ:OSTK) had a separate but similar case against New York's Department of Taxation and Finance that it also lost, according to Chris Dolmetsch at Bloomberg.
Both companies were making legal arguments that proposed the internet tax law was unconstitutional because it violated the Commerce Clause of the U.S. Constitution by imposing a tax on internet retailers who didn't have an actual physical presence in the state. The court maintained that since both Amazon and Overstock had agreements that involved paying commissions to affiliates who provided links that connected to the companies' websites, it "established an in-state sales force."
After deeming those links as evidence of "an in-state sales force," Chief Judge Jonathan Lippman concluded that "if a vendor is paying New York residents to actively solicit business in this state, there is no reason why that vendor should not shoulder the appropriate tax burden," reports Bloomberg.
Judge Robert Smith offered a dissenting opinion, stating that "the websites are not soliciting customers for Overstock and Amazon in the fashion of a local sales agent. Of course the website owners solicit business for themselves; they encourage people to visit their websites, just as a newspaper owner would seek to boost circulation. But there is no basis for inferring that they are actively soliciting for the out-of-state retailers."
Amazon spokesperson Ty Rogers stated in an email via Bloomberg that he believes this "ruling conflicts with U.S. Supreme Court precedents and with decisions by other state courts."
Seattle-based Amazon supports the passage of the Marketplace Fairness Act, which is a law that would set a nationwide standard for internet sales taxes for remote retailers if it is passed by the Congress.
Amazon closed up 0.45 percent at $266.49 in Thursday's trading and Overstock closed down 0.96 percent at $12.32.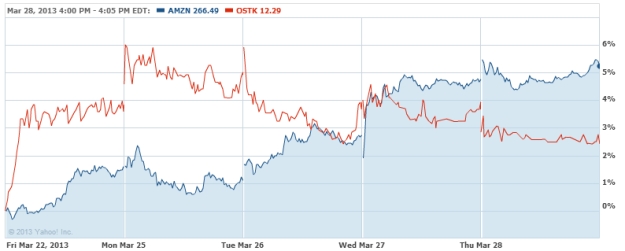 Don't Miss: Is Google Glass Stealing This Apple Partner?