Amazon's Cast Expansion, BioMarin Soars and Falls on Buyout Rumor, and 3 More Hot Stocks
Amazon.com Inc. (NASDAQ:AMZN): Amazon added Cynthia Nixon, Amy Sedaris, and Wandy Sykes to the cast of Alpha House, its original political drama series. The women join John Goodman, Clark Johnson, Matt Malloy, and Mark Consuelos, who have already signed on. Amazon turned to crowdsourcing to help pick its original series; Alpha House is one of five shows that made the cut.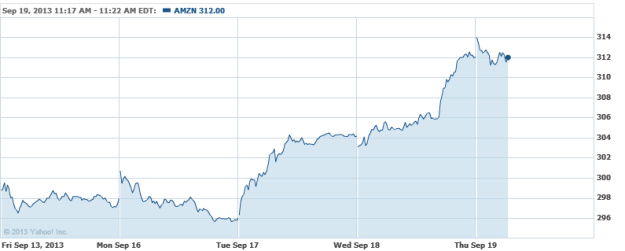 BioMarin Pharmaceutical (NASDAQ:BMRN): BioMarin shares ripped through premarket trading Thursday morning on rumors that Roche was raising the capital needed for a takeout offer, but they have since settled as Roche CEO Severin Schwan quelled the rumors and affirmed that it is now pursuing an offer for BioMarin. Shares back to trading just over flat.

ConAgra Foods (NYSE:CAG): ConAgra reported earnings per share of 37 cents, in line with expectations, and revenue of $4.20 billion, off by $0.1 billion. Weak volume in the Consumer Foods group caused sales to fall 1.8 percent to $1.996 billion as Commercial Foods revenue dropped 0.4 percent to $1.264 billion. The company is expecting 2014 EPS of $2.34 to $2.38, in line with the $2.35 consensus.

Rite Aid Corp. (NYSE:RAD): Shares of Rite Aid are on a 14 percent-plus tear after the company reported beats for both EPS and revenue, and raised its fiscal outlook for 2014. Same-store sales grew 1 percent and its prescription count was flat for the second quarter as a higher mix of generic drugs helped widen the chain's margins.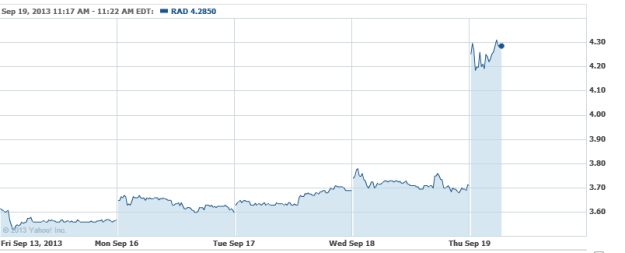 Sony Corp. (NYSE:SNE): Sony said it's hoping to move 5 million units of its PlayStation 4 by March, an ambitious and lofty goal given that the PS3 sold 3.55 million units in its first fiscal year to March 2007. While the PS4 carries a cheaper price tag, delayed releases in key markets like Japan will put Sony's ambitions to the test. The company also briefly unveiled a new PlayStation App for both Android and iOS,  which connects to the PS4 and lets players use the camera on the smartphone to interact with the gaming environment generated by the PS4.

Don't Miss: Oracle Hits the Ground Running With First-Quarter Results.