Amazon's Cloud Biz, Microsoft and Oracle Face Challenging Market, and 2 More Hot Stocks
Amazon.com (NASDAQ:AMZN): Since moving into the business of remote data storage and other cloud services, Amazon has been working feverishly to lure large corporations to set up shop among its data stacks. However, the biggest opportunity lies in the $300 billion that enterprise customers spend on data centers annually, according to Bernstein Research. To help capitalize, Amazon has developed a partner network that boasts some 4,000 members, up from 1,000 a year ago. The resulting ecosystem with developed solutions that function on Amazon's Web Services servers can help convince large corporations and government agencies to sign up with the company.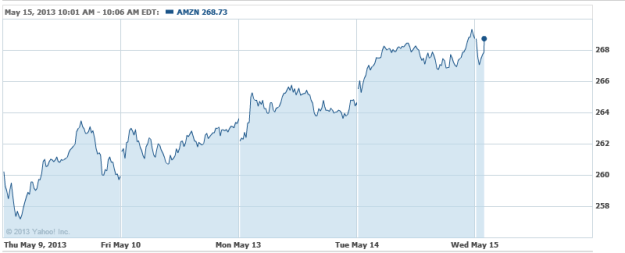 Microsoft (NASDAQ:MSFT): IDC has taken the knife to its 2013 IT forecasts, with industry growth forecast down to 4.9 percent from 5.5 percent, due to macro-related issues coupled with weak PC demand. Software demand will slow as well, from 7 percent to 6 percent growth — not welcome news for companies such as Microsoft or Oracle (NASDAQ:ORCL).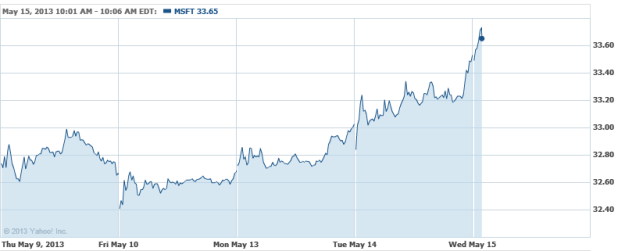 HSBC (NYSE:HBC): In-line with hints from earlier, HSBC is cutting another 14,000 jobs from its payroll, for savings of roughly $3 billion to help boost shareholder returns. CEO Stuart Gulliver says the bank intends to hike dividends and may repurchase stock to offset any dilution investors experience as a result of some shareholders taking their dividends in the form of additional shares. However, the constant cuts are setting off warning bells with some analysts: "You're getting cost cuts as a means of sustaining performance, and that's not a great sign," says Simon Maughan. "What HSBC is showing you is that there is very little growth in the banking industry for years to come."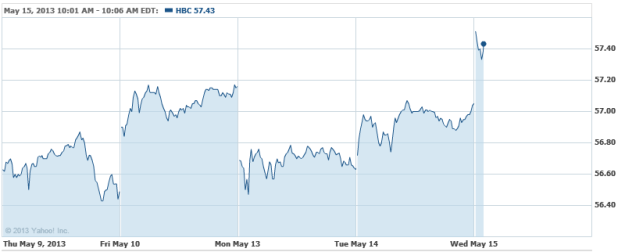 Time Warner, Inc. (NYSE:TWX): Time Warner has sought approval from the European Commission for voting rights that are proportional to its 49.9 percent stake in Central European Media Enterprises (NASDAQ:CME), Central said. The commission said it will make a decision prior to June 17, the deadline for its decision.

Investing Insights: Is Facebook a Bargain Here?