Amazon's Hiring Spree, Google Dodges European Fine: Market Recap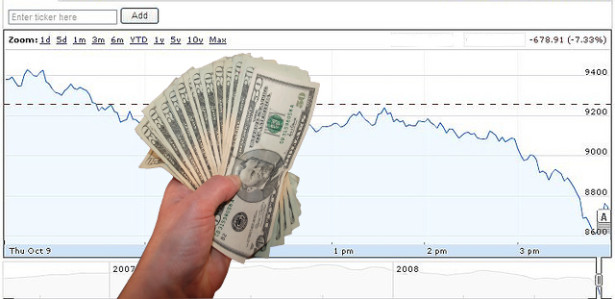 U.S. stocks rose during trading on Tuesday as the impact of the government shutdown is expected to be minimal. The shutdown has placed 800,000 government employees on temporary unpaid leave and will cost the U.S. government $300 million a day, according to research firm IHS. According to data from Bloomberg, historically, stocks have risen in the wake of government shutdowns, so investors may use this time as a buying opportunity.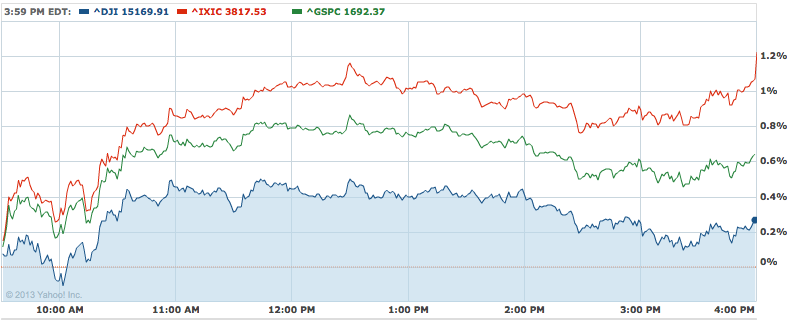 Gold: -2.82% to $1,298.60 per ounce Oil: -0.57% to $101.75 per barrel U.S. 10-Year: +1.19 to 2.646%
Government Shutdown: Nobody Wanted It, But Here We Are Anyway: Indeed, as many feared and expected, policymakers failed to pass a continuing resolution on Monday night, and the U.S. government has begun the process of idling 800,000 workers and placing nonessential operations into hibernation until further notice.
U.S. Consumers Are Keeping Their Wallets Closed: For the past four months, the American consumer has been the focal point of analysis. The United States is now four years into the economic recovery, but most evidence suggests that Americans are still keeping their wallets closed.
Will Economic Headwinds Kill the Manufacturing Recovery?: The U.S. manufacturing sector continued to expand in August, according to reports published by Markit and the Institute for Supply Management on Tuesday. Although the two disagree about the speed of the recovery, both reports show that manufacturing business activity increased at least modestly, which is consistent with overall growth in industrial production that just narrowly missed economist expectations.
Here's your cheat sheet to today's top stock stories:
JPMorgan Chase (NYSE:JPM) has been slammed with numerous legal and regulatory headaches in recent months. Now, the Justice Department is pursuing criminal charges against JPMorgan for the sale of mortgage-backed securities with the government's case largely dependent on information from a JPMorgan insider who has provided the necessary material evidence.
Google (NASDAQ:GOOG) seems to have escaped a possible $5 billion fine from the European Commission over accusations that the search engine was engaging in anti-competitive behavior to maintain its dominate 80 percent of the search market in Europe. Head of the European Commission Joaquin Almunia said in a statement seen by Reuters on Tuesday that Google has offered antitrust concessions that he approves of, although he wants to give Google's competitors a chance to approve the concessions as well.
Amazon (NASDAQ:AMZN) announced Tuesday, the first day of October, that it is planning to create more than 70,000 full-time seasonal jobs across Amazon's U.S. fulfillment centers this holiday season, and the online retailer expects to eventually convert many of those seasonal opportunities into permanent roles. Though Amazon has a history of hiring seasonal workers, this year's recruitment figure especially sticks out because it reflects a 40 percent increase over last year.
Boeing (NYSE:BA) is now acknowledging its 787 Dreamliner reliability issues and vowing to make the jets more dependable, reflecting a deviation from the company's previous actions of staying conspicuously silent about the issues. According to Reuters, Randy Tineth, Boeing Commercial Airplanes' marketing vice president, is now recognizing new concerns about the Boeing 787.
Zynga (NASDAQ:ZNGA) has resolved a trademark lawsuit against the makers of Bang With Friends. The maker of Farmville had alleged that the web application violated its trademark of "with friends," that it employs in several games, namely Words With Friends and Chess With Friends. The details of the settlement were not available, but Bang With Friends accepted Zynga's trademark right, and the application has will change its name and rebrand its service offering in the future. This marks the third lawsuit Zynga settled in 2013.
General Motors' (NYSE:GM) redesigned line of pickup trucks is flying off the lots, according to sources who spoke to Bloomberg. The sources said the revamped Chevrolet Silverado and GMC Sierra models are selling faster than the company can produce them. Three people familiar with the matter spoke to Bloomberg, saying that the pickups with the popular 5.3-liter V8 engine have been selling faster than General Motors suppliers can make engine parts.
Follow Jacqueline on Twitter @Jacqui_WSCS
Don't Miss: Amazon Creates Jobs for 70,000 Holiday Elves.