Amazon's Rumored Jump into the Console Fray, Toyota Faces a Huge Settlement, and 3 More Hot Stocks
Amazon.com Inc. (NASDAQ:AMZN): Sources indicated to VentureBeat that Amazon is looking to break into the game console industry with an Android-powered gaming console — complete with a dedicated controller — which may launch around the Black Friday timeframe. VentureBeat has been tracking the developments and notes that the company has been hiring numerous game developers. However, it points out that a couple of its sources "weren't sure if Amazon was serious about the project."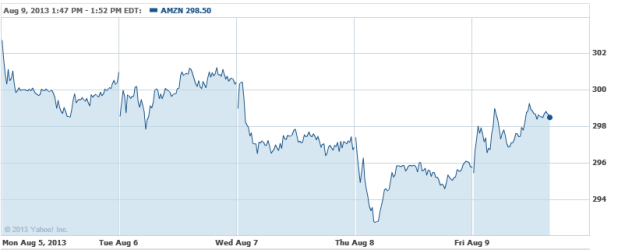 Toyota Motor Corp. (NYSE:TM): Lawyers acting on behalf of the plaintiffs in a wrongful death lawsuit against Toyota are demanding a $20 million settlement from the company as compensation for the family of a woman who died when her Camry suddenly accelerated and crashed despite her efforts to stop. The trial is expected to last two months.

Rio Tinto PLC (NYSE:RIO): Shares of Rio are up nearly 5 percent as the government of Mongolia is studying converting its 34 percent stake in the Rio-owned Oyu Tolgoi copper and gold mine into a public company, Reuters reports. If Mongolian citizens — who have complained that the project only benefits foreign investors — received a stake, the Mongolian government would likely find it easier to negotiate with Rio Tinto.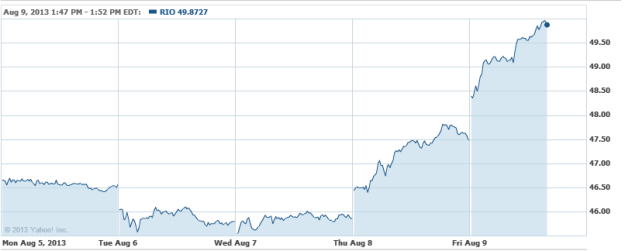 AOL (NYSE:AOL): CEO Tim Armstrong has confirmed that "hundreds" of Patch's 1,300 workers have been laid off including division chief Steve Kalin, and that 400 of Patch's 900-plus sites will be shut down or partnered with local sites. Tech Crunch reports that Bud Rosenthal, a former Yahoo executive — and until now the head of AOL's dial-up ISP ops — will be Patch's new CEO. Patch has long posed a problem for AOL, and sports a history of significant losses.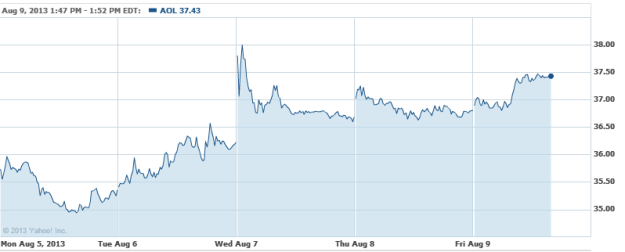 Deere & Co. (NYSE:DE): Phil Falcone's Harbinger Capital is suing Deere as well as several GPS companies for damages in the ballpark of $2 billion related to the 2012 bankruptcy of wireless company LightSquared. Harbinger spent billions of dollars on LightSquared, and said in a complaint that he never would have made the investments had the GPS industry disclosed potential interference problems between the LightSquared spectrum and GPS equipment between 2002 and 2009, Reuters reports.