AMD Announces Strategic Focus and 2 Other Hot Stocks To Watch
Advanced Micro Devices (NYSE:AMD): Current price $3.28
On Thursday, AMD announced a strategic focus upon developing one-of-a-kind solutions via its Semi-Custom Business division, based on the extensive set of intellectual property  accumulated across AMD processors, graphics and multimedia. The business unit propels AMD to a new level of customer-centric design by joining these building blocks with customer-specific IP, through which to create tailor-made solutions that employ a flexible System-on-a-Chip design methodology.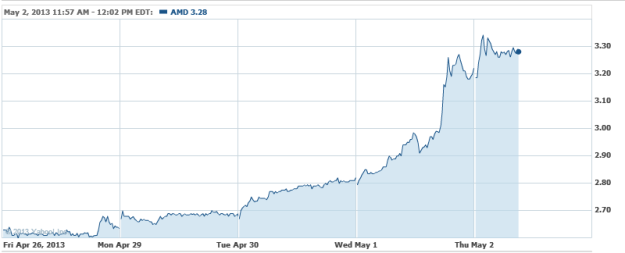 Facebook (NASDAQ:FB): Current price $28.44
Facebook shares rose by 3 percent at one point to $28.27, the day following the social-networking behemoth posting impressive first-quarter revenue gains, with mobile ad revenue comprising some 30 percent of the total ad sales of $1.25 billion.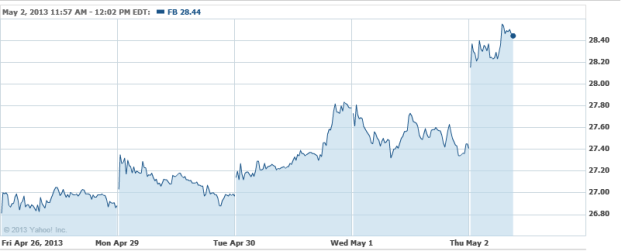 ING U.S. (NYSE:VOYA): Current price $20.01
ING U.S., which remains majority-owned by ING Groep (NYSE:ING), priced its initial public offering below its anticipated range, and then continued its debut on Thursday by opening down over 1 percent. The opening day of trading thus far marks the second-largest U.S. IPO of 2013, which raised about $1.27 billion through the offering. However, in late morning, shares were up more than 2 percent over the $19.50 opening price, even though the weaker-than-expected pricing had pushed ING U.S. to boost the size of the deal by 1.6 percent to 65.2 million shares, according to The Wall Street Journal.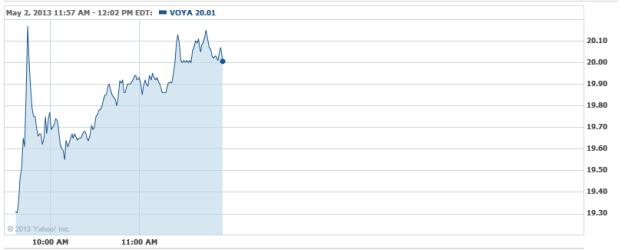 Don't Miss: Live Wrap: Will Facebook's First-Quarter Earnings Beat the Bears?