AMD Pops On Processor Expectations and 2 More Heavily Traded Stocks To Follow
Advanced Micro Devices (NYSE:AMD): Current price $3.60
AMD shares have seen their biggest week of gains in over 10 years, although a number of analysts are wondering at the magnitude of the run-up, considering the uncertain outlook for the firm. At any rate, the most usually-cited reason for the gains is the major part that AMD's processors are anticipated to play in the next generation of video game consoles, but short-covering and deal chatter have also been thought factors. Shares were trading up by 5 percent to $3.59 late Friday afternoon, and were on track to finish the week with a gain of 37 percent, which would have it just below its best week ever logged, in October of 2002, says FactSet.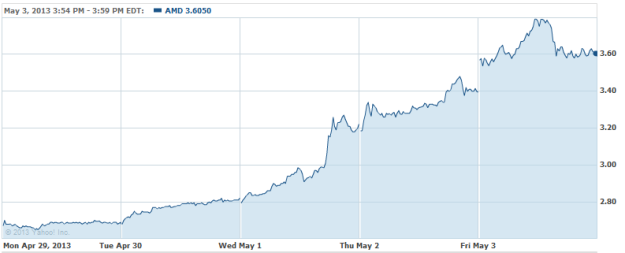 Nokia Corporation (NYSE:NOK): Current price $3.30
Kevin Chen at The Motley Fool reports that Nokia is working jointly with UNESCO to introduce a new English Teacher service on Nokia Life+ that will supply free professional development support via mobile phones, to primary school English teachers in Nigeria. Through their mobile phones, teachers will be able to receive English teaching articles,  resources, activities,along with other materials to aid them in the classrooms. Nokia says that the English Teacher content was developed by the British Council, and follows Nigeria's primary grade English curriculum.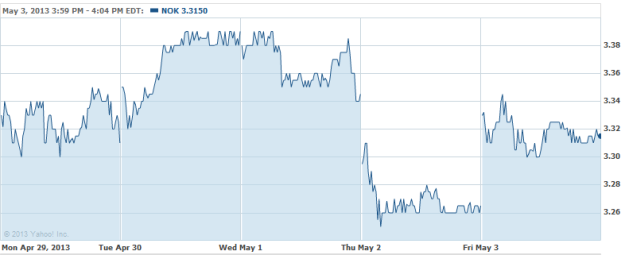 Alcoa (NYSE:AA): Current price $8.62
Alcoa's board has declared a quarterly common stock dividend of 3 cents per share payable May 27th to shareholders of record at the close on May 13, and a quarterly dividend of 93.75 cents per share on Alcoa's $3.75 cumulative preferred stock, payable July 1st to shareholders of record at the close on June 14.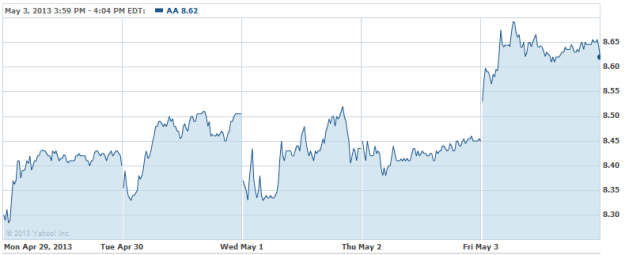 Investing Insights: Can Dell See Higher Prices?