AMD Signs Conditional Put-and-Call on Singapore Subsidiary and 2 Other Hot Stocks to Watch
Advanced Micro Devices, Inc. (NYSE:AMD): Current price $3.44
AMD has reached a conditional put-and-call option agreement to sell its Singapore subsidiary, Advanced Micro Devices (Singapore) Pte Ltd., and then lease it back. Such an action should generate additional funds and also diversify its business beyond the embattled personal computer industry.
The firm will divest its Singapore facility to HSBC Institutional Trust Services (Singapore) Ltd., and the transaction will be closed following the final okay by the JTC Corporation, which is the Singapore entity charged with managing that country's industrial infrastructure. Subsequent to the deal, AMD would sign a 10-year sub-lease to continue its operations in a portion of the facility.

Dell Inc. (NASDAQ:DELL): Current price $13.78
Dell had reported its highest-ever share of the worldwide server market, 18.8 percent, while two of its rivals — IBM and Hewlett-Packard Co. — both lost share. However, that was the silver lining and here is the cloud: The latest data from International Data Corp. indicates that factory revenue in the global server market fell by 6.2 percent in the second quarter to $11.86 billion compared year-over-year from $12.64 billion in 2012. IBM kept its number-one spot in both market share and revenue with a 27.9 percent share and sales of $3.31 billion.

Ford Motor Co. (NYSE:F): Current price $16.08
It is not for nothing that the media have long called the month of August the "Silly Season" — this story is quite strange, but apparently it is true. Ford will wrap a 2014 Ford Fiesta in bacon to commemorate International Bacon Day on August 31. Drivers of the car may now buy bacon wraps for their vehicle to fully express their personality and commitment to pork's most popular eatable.
Ford is reporting the availability of custom bacon graphics which pork purists may have installed on their new Fiesta. The accompanying press release says that, "The small car synonymous with fun and individuality is hitting dealerships around the country." Observers might well wonder where the eggs and toast will go.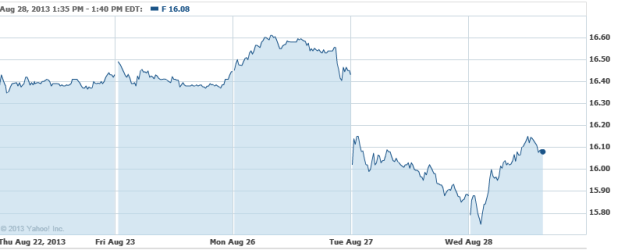 Don't Miss: Homeland Security: Hackers Love Old Androids.